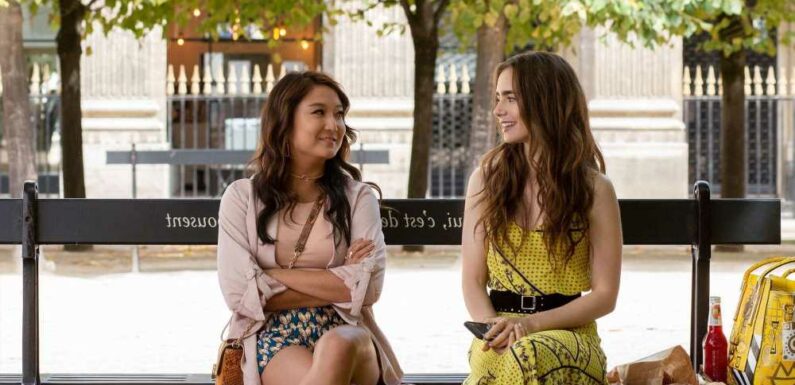 There may be a fresh, new season of Emily in Paris on its way to Netflix soon, but let's be honest here: You simply can't wait until then, right? And if you, like me, are sitting here wondering what you're going to watch to fill the Eiffel Tower–shaped hole in your heart until December 21, I've got some good news for you because there are *tons* of other shows like Emily in Paris out there. From workplace dramas to complicated love stories to even Paris-centric series, there's plenty to choose from—you've just gotta know where to look!
Luckily, I did the looking for you to make myself less sad about having to wait for Emily in Paris season 3. So here are 15 TV shows just like the Netflix original that you need to stream ASAP until you watch Emily Cooper do her thing once more.
Younger
When single mom Liza decides to get back into the workforce at 40 years old, she flunks a bunch of job interviews. The obvious solution? Pretend you're 26 so that you can get an entry-level gig at a publishing house. This show may take place in NYC but it DEF has an Emily in Paris vibe about it. Plus it has Sutton Foster and Hilary Duff, so what's not to love?
Watch Now
Love Life
If you're here for romantic dramas, then Love Life needs to be your next binge. Season 1 stars Anna Kendrick as Darby, a young adult looking (kinda unsuccessfully) for love, with every episode focusing on a different relationship in her life. Season 2 stars William Jackson Harper, who you may recognize from The Good Place.
Watch Now
Call My Agent
If you don't mind subtitles (or just so happen to know French), then please run, don't walk, to Call My Agent. It's a comedy (with a bit of drama sprinkled in) about a talent agency in Paris just trying to keep its business afloat and its clients happy. I promise it'll fill the Parisian workplace void in your life.
Watch Now
The Marvelous Mrs. Maisel
Emily in Paris is all about a young woman striking out on her own, and wow does The Marvelous Mrs. Maisel have that down. It's set in the '50s in New York City, where Midge Maisel has her life turned upside down after her husband leaves her. But soon after, she realizes she's much better at being the one thing her husband was trying to be: a stand-up comedian. As you can probably guess, this show is amazingly funny and there are already three seasons for you to binge.
Watch Now
Workin' Moms
When four young moms head back to work after their maternity leaves are up, things get, well, interesting. There's Kate, the workaholic PR manager who's trying to balance it all; Anne, the no-BS psychiatrist who's accidentally pregnant again; Frankie, the real estate agent dealing with a bout of postpartum depression; and Jenny, the IT tech who's not too sure about her marriage anymore. Even if you've never been near a baby in your entire life, this show will still have you laughing out loud.
Watch Now
Dash & Lily
If you're looking for something quick to binge, Dash & Lily is great because there's only one season. It's a rom-com set during Christmas, and it's all about two teens in NYC who pass a book of dares back and forth at spots all around the city. And yes, you guessed it, they start to fall for each other.
Watch Now
Sex and the City
Since Sex and the City was one of the inspirations for Emily in Paris, it's only fitting to watch it and admire the ridiculous/amazing outfits. If you've never seen it before, then I'm incredibly jealous because getting to watch this show for the first time is pure magic! And once you're done, you can check out the reboot, And Just Like That…, which is airing now.
Watch Now
Broad City
No show encapsulates young women trying their hardest and hilariously falling on their faces more than Broad City. To say this show is the best thing to ever grace your TV screen is an understatement, IMHO, so watch it now and thank me later.
Watch Now
The Mindy Project
Mindy from The Mindy Project and Emily from Emily in Paris totally have the same energy, and by that I mean blind confidence and bold outfit choices. Mindy Kaling is amazing at everything she does, but this show is one of her best projects yet.
Watch Now
The Great
We love a strong woman who's not afraid to go after what she wants! The Great is a verrrrry loose, satirical retelling of Catherine the Great of Russia and how she overthrew her husband, the emperor. Nicholas Hoult is the idiot emperor and is equal parts hilarious and infuriating (he's just so good at playing a total d-bag) and Elle Fanning is the boss herself.
Watch Now
Gossip Girl
Even if you've already watched Gossip Girl (because, I mean, who hasn't at this point?), it's ALWAYS worth a rewatch. And if you haven't, it's time to start because all the teen drama, luxurious Upper East Side lifestyles, and snarky quips never get old. Bonus: This show *also* has a revival to binge when you're done!
Watch Now
Never Have I Ever
Another masterpiece from Mindy Kaling, Never Have I Ever may be about teens in high school, but it's got LAYERS, I tell ya! It's about a first-generation Indian American teen who, in the wake of losing her dad, decides she wants to level up her social status at school. It's funny, heartwarming, and heartbreaking, often all at the same time.
Watch Now
The Bold Type
This show stars Katie Stevens, Aisha Dee, and Meghann Fahy as three twenty-something BFFs who work at the fictional fashion magazine Scarlet and chronicles the ups and downs they face while navigating their personal and professional lives. Luckily, with an added dose of romance and 'ship drama to go around, you'll def be hooked right from the beginning. P.S. The series earns *major* brownie points since it's quite literally inspired by the life and career of former Cosmo editor-in-chief Joanna Coles 👀. Obsessed!
Watch Now
Sweetbitter
Much like Emily in Paris, Sweetbitter grapples with the story of a transplant who lands in a major city and attempts to navigate an entirely new life—and job. In this series, which is based on the 2016 novel of the same name by Stephanie Danler, the lead protagonist, Tess, winds up in New York City and finds a job waitressing at a high-end restaurant where she finds comfort (and no shortage of sticky situations) among a group of coworkers who become her friends.
Watch Now
The Carrie Diaries
This v fun prequel is the answer to the eternal question, "What would Carrie have been like as a teenager?" In it, we follow Sex and the City lead (played by AnnaSophia Robb) Carrie Bradshaw as she begins an internship in the city, falls in love for the first time (with Austin Butler, no less), and deals with *tons* of drama. Sign me up!
Watch Now
Source: Read Full Article