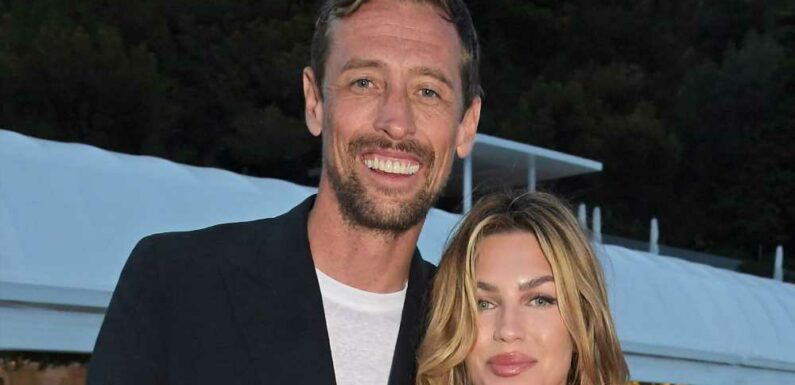 PETER Crouch and his wife Abbey Clancy have revealed they rushed their daughter to hospital in a "terrifying" emergency dash.
The former football player and the catwalk model opened up on their eldest child contracting viral meningitis during the family's Easter holiday to Portugal.
Abbey, 37, admitted her fears over the hospital dash after Sophia, 12, caught the virus, which causes an inflammation to the layers of tissue that cover the brain and spinal cord.
Although rarely life-threatening, for some sufferers the after-effects can be life-changing – and the virus must be treated immediately.
The couple were left even more scared after Sophia was taken into hospital – when their youngest son Jack, three, started coughing.
The mother-of-four was forced to return to hospital with their little one, in fear that he had also contracted meningitis.
read more on abbey clancy
Abbey Clancy poses with lookalike sister on Easter getaway with Holly Willoughby
Abbey Clancy compares naked Peter Crouch to 'a giraffe from the back'
Abbey, who is also mum to Liberty, seven, and Johnny, five, said on The Therapy Crouch podcast: "The school holidays have been tough.
"We got to Portugal and Sophia was in hospital with meningitis which was just the scariest thing on earth.
"Being in a foreign hospital, language barriers, the words like meningitis being thrown around, lumbar punctures, brain scans.
"It was horrific – I felt so vulnerable – and scary. But I must say the medical care over there was just out of this world."
Most read in Celebrity
Sam Smith cancels ANOTHER gig just days after ditching Glasgow date
Chloe Sims unrecognisable before surgeries in throwback pics for daughter's 18th
Sam Faiers slammed over holiday pics as she's accused of Photoshop fail
Holly Willoughby shares rare look inside her London home during 'spring clean'
"These things always happen on a Sunday at one o'clock in the morning, just to add to that fear and that scariness of the situation. It can never be a normal hour," she joked of the hospital dash.
"With Sophia I just knew something was wrong, like it wasn't like a normal bug. I was going to Pete 'it's meningitis', and it was. I actually couldn't believe it.
"So then having three babies at home I was thinking 'what if they catch it?' We were on like high alert. We didn't sleep at all.
"I was watching every child like a hawk. It was just terrifying."
After Sophia fell sick, Abbey confirmed her other three children all came down "with flu and coughs".
"Sophia was out the hospital and we were back in the hospital with them because I was thinking 'I've got three other children, can they catch this viral meningitis?' It was traumatic," Abbey added.
"I think we had four hours sleep in like 30 hours… I've never been so scared in my life."
Peter, 42, added: "That was just because we were so worried about Sophia, when [Jack] started coughing we felt like we had to take him."
Abbey, who has previously revealed she has a hospital phobia after Sophia spent three weeks in Great Ormond Street as a baby, continued: "Viral meningitis doesn't present as a cough, but he literally didn't stop coughing. He had no breath in between."
The parents shared looking after their four children during their illnesses, with Peter taking the night duty in the hospital.
He continued: "Obviously she (Sophia) had to stay in so we were just doing shifts. I was like doing the night shifts and then Abbey was doing the day shift.
"And we were on separate holidays completely. It wasn't a holiday to be honest, it was just looking after her.
"And it was scary, but then obviously you've got to look after the little ones. So that was obviously a traumatic experience."
Abbey concluded of the holiday: "We got home from Portugal all exhausted. Then get into bed, everyone's asleep and then Liberty comes in and goes 'Mum, dad, I feel like I've got the vomiting bug'.
"And Pete went 'f**k this, I can't be arsed with this'. And he just stood up and walked out the room and went into another bedroom."
Peter said: "I was like 'I'm out now, I'm just not doing this any more'. I went to a different bed and shut the door and turned the light off. I washed my hands of it.
"I couldn't do any more. Sometimes you've got to tap out."
Source: Read Full Article