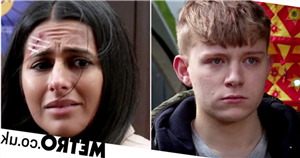 To view this video please enable JavaScript, and consider upgrading to a webbrowser thatsupports HTML5video
Alya Nazir (Sair Khan) has always maintained the view that Max Turner (Paddy Bever) was being groomed and manipulated by Griff Reynolds (Michael Condron) and his gang in Coronation Street.
While this is true, other Weatherfield residents haven't viewed Max's situation from the same perspective.
We saw a glimmer of the old Max this week in the ITV soap, when he finally realised the people he had been hanging out with recently are in fact incredibly dangerous.
Max was able to work out that a member of the gang had planted a bomb in the Speed Daal van and, with fear in his eyes that people may end up dead, Max set about trying to warn Alya and Yasmeen (Shelley King).
At first, they didn't believe the teen but laying eyes on the device themselves allowed Yasmeen and Alya to accept the horror of the situation.
As people escaped to safety, Alya took it upon herself to drive the van to a clear ground and as it exploded, she was thrown to the floor.
Coming up, as this new video shows, Alya is still in recovery after the injuries she sustained.
She interrupts Gary (Mikey North), Maria (Samia Longchambon) and Ryan (Ryan Prescott) all having a go at Max, wondering why he's been released from police custody so early.
Alya believes that despite what Max said in the past, he ended up saving a lot of lives, and that Maria, Gary and Ryan should back off a little.
Wanting to move on, Alya tells the residents that if Max has learnt his lesson, then they can put the ordeal behind them.
But has he?
While Max realised what Griff was really like this week, he's still been brainwashed into believing racist and right-wing views.
How long will it take to de-radicalise him?
Source: Read Full Article