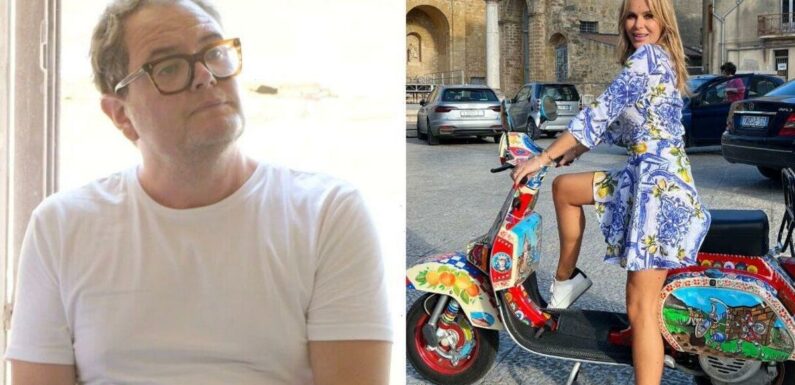 Alan Carr updates fans after he injured himself
We use your sign-up to provide content in ways you've consented to and to improve our understanding of you. This may include adverts from us and 3rd parties based on our understanding. You can unsubscribe at any time. More info
Amanda and Alan's Italian Job will launch on BBC One on Friday, and sees the actress and the comedian revamping a dilapidated Sicilian property into a luxury home. The two were eager to do all the work themselves and weren't afraid to get their "hands dirty". However, this meant they were doing some tough jobs and ended up with a couple of minor injuries. Speaking to Express.co.uk, the pair detailed the difficulties they faced.
The friends share an interest in both travel and interior design, so the project was perfect for the duo.
Their hopes were for the property will go on sale once complete, with the proceeds donated to UK charities.
When asked if they got hurt during the heavy lifting, Amanda replied: "I think we definitely had sore backs."
The 51-year-old Britain's Got Talent star added: "I definitely broke a couple of nails!"
"It wasn't an injury, but my shorts split didn't they?" Alan recalled.
"I'd been testing out a bidet, like doing lunges."
"He straddled it!" Amanda cut in, adding: "I don't know why you'd want a bidet…"
Detailing the impact the hard work had on them, Alan later added: "My hands were like… callus, they were callus.
"I know people will go, 'Oh, I bet they didn't do anything,' but we genuinely did!"
"We bashed walls down, we took metalwork off, we took windows out, we brick laid," Amanda clarified.
"I now have so much respect for tradespeople," Alan, 46, admitted.
"When they come around your house, the builders, and they suck the teeth… I was like that.
"I'm like that because they went, 'Oh, this kitchen needs to be done.' And I was like, 'Darling, darling, it ain't gonna be done!'"
Amanda went on: "It's not going to be easy, it's not going to be quick! And then what we didn't think about was because it's on right at the top of the hill, we had to try to get all the rubbish.
"How do you take it all down? How'd you get we marble up?
"You know when you're at home you just get a skip and you put everything in the skip and someone comes and takes it.
"But here there was just nowhere for it to go, and then when we came to build the kitchen, the marble is so long on the island and it weighs an absolute tonne.
"We had to have a vehicle with like every man we could find in the village to try and help us to get it all.
"We just never thought about narrow streets and villages and heaviness, and we lived down three flights of stairs. So for our apartment, you had to walk down three flights."
"I was just flapping about, you know when it looks like you're actually helping?" Alan joked.
Amanda and Alan's Italian job airs on BBC One at 8.30pm on Friday, January 6.
Source: Read Full Article