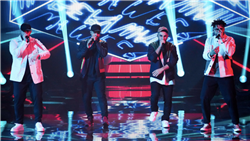 EXCLUSIVE: America's Got Talent: All-Stars is settling in nicely alongside its predecessor at NBC.
The premiere episode of the new competition series — which features winners, finalists, fan favorites and viral sensations from previous seasons of America's Got Talent and Got Talent franchises around the world — has racked up 9.1M total viewers since its debut on January 2.
The episode has also reached a 1.2 rating among the advertiser-targeted 18-49 demographic. That's up fairly significantly from the 5.3M viewers and 0.59 demo rating the episode scored in live + same day.
According to NBC, 15M viewers have seen at least six minutes of the episode. These numbers include two linear telecasts, delayed viewing and digital.
Related Story
NBC Wins Premiere Week In Adults 18-49 And Viewers
AGT: All-Stars has also been tracking well on social media with 47M social impressions and 3.2M video views, which is a 33% increased from the Season 17 premiere of AGT.
It seems that AGT: All-Stars will be a nice companion to AGT, which airs in the summer. The premiere episode managed 6.3M viewers and a 0.76 demo rating when it debuted in May. Overall, the season averaged about 6.2M live + same-day viewers and a 0.68 demo rating.
Got Talent creator and executive producer Simon Cowell judges AGT: All-Stars alongside Heidi Klum and Howie Mandel. Terry Crews serves as host. Cowell, Sam Donnelly and Jason Raff executive produce the series, which hails from Fremantle and Syco Entertainment.
Must Read Stories
Hits '60 Minutes' & ITV; Details Fight With William, Why He Went Public
Bob Iger Wants Disney Employees Back In The Office Four Days A Week Starting March 1
How Pic Boogied Its Way To $30M Open; Sequel In Works; Scribe Pitches Unrated Version
What's Next At Chinese Box Office As Covid & Politics Prove Unpredictable Mix
Read More About:
Source: Read Full Article