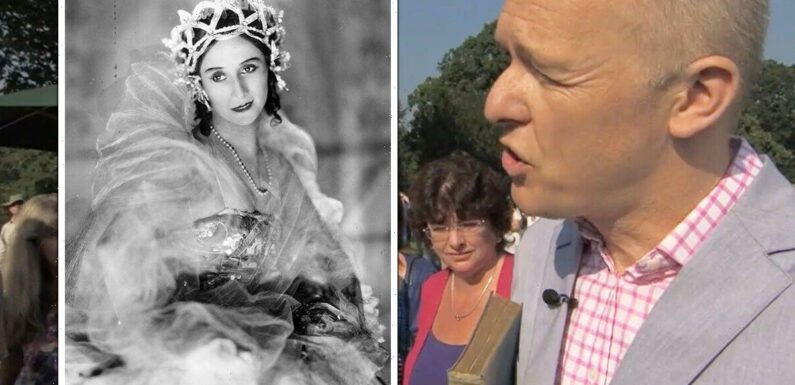 Antiques Roadshow: Expert values WW1 photos in 2014
We use your sign-up to provide content in ways you've consented to and to improve our understanding of you. This may include adverts from us and 3rd parties based on our understanding. You can unsubscribe at any time. More info
Antiques Roadshow often welcomes an abundance of unusual and valuable items that the BBC show's experts cannot wait to get their hands on. It was a particularly special day for ceramics and glass expert Fergus Gambon who was filming at The Royal Ballet School in Richmond. Coincidentally, it was where Gambon was given handcrafted figurines, created by none other than the iconic ballerina herself, Anna Pavlova.
Ceramics expert Gambon was surprised when he was presented with two stunning sculptures of ballerinas mid-dance.
Their owner explained how they were made by Russian ballerina Anna Pavlova, going into detail how they originally belonged to his first mother-in-law who lived next door to Out of Africa author Karen Blixen.
"It was a coffee farm and there was a slump in coffee and she and her husband had to sell up and sell everything they possessed," he said.
"And amongst them were these figures and so she bought these and they've fallen into my hands."
Anna Pavlova was a Russian prima ballerina of the late 19th and early 20th centuries.
She was also a principal artist of the Imperial Russian Ballet and the Ballets Russes of Sergei Diaghilev.
But it is well documented that art was another love of the unforgettable dancer's, spending much of her free time creating figurines, such as those featured on the show.
On closer inspection of the items, Gambon described them as having "quite exceptional beauty, exquisite modelling."
"I find it totally incredible that a woman who is without a doubt the greatest ballerina of the early 20th Century, was able to create such incredible works of art as these," he said.
"Totally amazing.
"I'm still wowed really by the immense talent of the woman, I really am.
"These are incredible sophisticated and beautiful objects."
Giving some background information, Gambon said how Pavlova learned her skills from a professor in Germany who encouraged her to have her work reproduced in porcelain.
DON'T MISS…
James May having 'difficult time' following Grand Tour 'axe' [EXPLAINER]
Antiques Roadshow expert issues warning to guest over WWI albums [WARNING]
Antiques Roadshow guest staggered by value of guitar saved from skip [REACTION]
To prove these were genuine articles, the expert showed off the initials AP by the foot of the ballerinas.
There was also the mark of the porcelain factory where Pavlova had them created on the bottom.
However, while the first object was in perfect condition, the second one had been repainted to cover up some damage.
The guest explained something had happened to the wing perhaps 15 years prior.
Summarising how much both the sculptures are worth, Gambon said: "The normal approach for a valuing like this is to say 'Well, the last one sold in a public auction made so and so' and I've never seen one come up in a public auction.
"So I'm completely at a loss. So I have to rely on something else, my gut reaction of what the buyers out there would pay for things of this beauty and rarity.
"I think for this one, will make somewhere between £1,000 and £2,000.
"And this one that has some damage, and damage is important of course, but still the beauty is there, the lines are there. So let's say £400 to £600."
Antiques Roadshow airs on Sundays at 7pm on BBC Two.
Source: Read Full Article