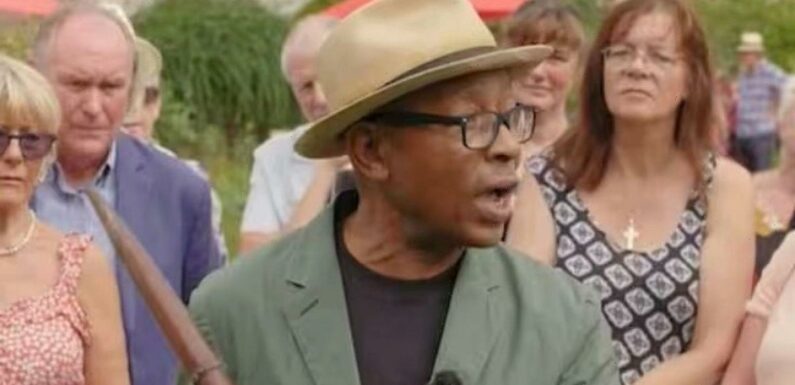 An Antiques Roadshow expert was overcome with joy when one lucky guest brought a rare historic item, which left them begging "give it to me".
During a recent episode of the BBC antiques show, expert Ronnie Archer-Morgan struggled to contain his excitement when a guest brought their in rare artefact to be valued.
The unsuspecting visitor struggled to understand the excitement over their wooden Polynesian club as the enthusiast detailed its possible history.
READ MORE: Antiques Road Trip host gobsmacked by huge profit on £10 decanter – despite dropping it
And it's fair to say everyone was shocked when the auctioneer revealed its eye-watering value before he demanded the guest hand it over to him.
Ronnie confessed: "When I saw you standing in the queue with this amazing piece of wood, I wished I was you.
"Just for a moment, but then I'm delighted that you were bringing it to me because I live for things like this.
"It's just a bit of wood, but what a bit of wood. This is a rare thing. This is a phenomenal club. You probably know that this is from Niue in Polynesia. Where did you get it?"
The owner recalled: "It must [have been] over 30 years ago, in a junk antique shop. And the guy who ran the shop, he kind of almost persuaded me to buy it.
"He said, 'Look, I've got something here for you, you know this is perfect'" as Ronnie interjected: "You wouldn't have had to persuade me!"
"Well I didn't really know at the time, but I was into tribal art then," the guest confessed.
After listening to his story, the expert asked how much the visitor paid for the sort-after item, to which he revealed: "I don't know, it was about a tenner" as the expert joked: "That was a big risk you took."
When the topic turned to value, Ronnie confessed that the vintage item could date back as far as the 18th century when Captain Cook was busy exploring Tonga and Samoa.
For more of the latest showbiz and TV news from the Daily Star, make sure you sign up to one of our newsletters here.
Ronnie concluded: "This could be the time of Cook. At auction or in a gallery, if it came up for auction – £12,000 to £20,000."
The owner was left visibly gobsmacked at the jaw-dropping valuation as they gasped excitedly: "Stop it! Really? £12,000 to £20,000."
It was at this point that the antiques expert jokingly demanded: "Give it some love or give it to me!"
READ NEXT:
Antiques Road Trip presenter makes whopping profit on beautiful £5 jewellery
Antiques Roadshow guest stunned over huge valuation of 'history-making' item
BBC Antiques Road Trip presenter red-faced as 'favourite item' flops at auction
Source: Read Full Article