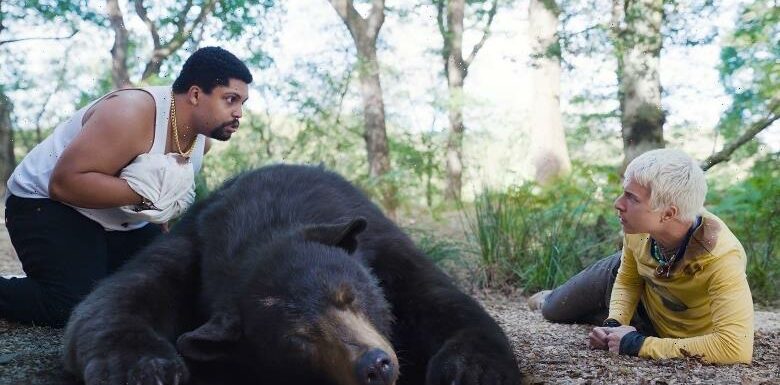 The really good news this weekend — two new openings combined grossing close to double their expectations — counterbalanced the grim result of a Marvel release collapsing in its second weekend.
"Ant-Man and the Wasp: Quantumania" (Disney) retained its #1 position the second weekend but with a 70 percent drop — the biggest fall ever for a Marvel title from the studio. "Black Widow" at 68 percent was the previous worst decrease (it also had PVOD access on Disney+). It's slightly worse than "Batman v Superman: Dawn of Justice" which, at the time, felt like a bad omen for that Warner Bros. franchise.
It's a warning sign, though hardly suggestive of any imminent danger, that theaters can't assume franchise/comic book movies will always sustain box office. That's why when two much lower budget titles — both originals, both with less than guaranteed results — do quite well, it establishes that there are alternatives to comic book universe sequels.
"Cocaine Bear" (Universal), with its story about an ursine rampage after the animal comes upon a stash of drugs, has been a social media hit for weeks. But that hardly always translates into a $23 million first weekend. And with a B- Cinemascore after the initial day, it was uncertain how it would end up. But it actually increased Saturday from the combined Thursday/Friday take — not always guaranteed for a genre title.
"Jesus Revolution" (Lionsgate), aimed at faith-based audiences with its retelling of a religious counterculture more than 50 years ago, came in at $15 million, doubling pre-release estimates. This is a niche audience that often surprises, and like any other, reacts to original stories. This got a rare A+ Cinemascore, but the fifth for co-director Jon Erwin ("I Can Only Imagine"). Its Saturday drop of 32 percent was the result of significant revenue from pre-Thursday returns that inflated the initial days' total.
"Jesus Revolution"
Lionsgate
Both films feature directors with past hits. "Cocaine" comes from Elizabeth Banks ("Pitch Perfect 2" and "Charlie's Angels"). In a time when directors with original successes are often snatched up for the next corporate multi-hundred-million-dollar franchise title, results like these reinforce the idea that audiences are hungry for more than the same old thing.
Despite the drop, "Quantumania" contributed $32 million to a decent $92 million total this weekend. That's 47 percent better than last year and brings the year-to-date improvement to 31 percent. If that's sustained for the rest of the year (don't assume that), it would bring 2023 to a little under $10 million.
The total is close to three years ago ($97 million), but that was when theaters were starting to feel Covid's impact on attendance. Our four-week rolling comparison to 2020 rose to 87 percent.
Post-holiday weekend, and with two new hits, many of the holdovers dropped as usual. But #4, "Avatar: The Way of Water" (Disney), down 28 percent, and "Puss in Boots: The Last Wish" (Universal), down 23 percent, remain strong. Both are now in their fourth month of play, with "Puss" already on PVOD.
Among other new releases, the next highest was "Mummies" (Warner Bros. Discovery), a Spanish animated title in limited play (only 225 theaters), with likely HBO Max play soon. Per sources, it came in #15 with a modest showing. The second weekend of "2023 Oscar Shorts" (Shorts TV), came in #14, with a decent $1.6 million total so far in 310 theaters.
"The Quiet Girl"
Courtesy Everett Collection
Of note among specialized openings — Best International Feature Oscar nominee "The Quiet Girl" (Neon) from Ireland took in $60,000 in six initial platform dates. The second weekend of "Return to Seoul" (Sony Pictures Classics) saw an expansion to 11 theaters and $44,000. These are two of the best-reviewed new releases this year, both subtitled and likely to try to gain best results from core specialized theaters.
Among top category Oscar contenders, other than "The Way of Water," the best gross again came from "Everything Everywhere All at Once" (A24) with $115,000. By comparison — and it's not a totally fair comparison, since some key contenders weren't on VOD yet — similar nominees added $27 million to the total gross.
The Top 10
1. Ant-Man and the Wasp: Quantumania (Disney) Week 2; Last weekend #1
$32,200,000 (-70%) in 4,345 theaters (no change); PTA (per theater average): $7,411; Cumulative: $167,315,000
2. Cocaine Bear (Universal) NEW – Cinemascore: B-; Metacritic: 54; Est. budget: $35 million
$23,090,000 in 3,534 theaters; PTA: $6.534; Cumulative: $23,090,000
3. Jesus Revolution (Lionsgate) NEW – Cinemascore: A+; Metacritic: 46; Est. budget: $15 million
$15,525,000 in 2,475 theaters; PTA: $6,273; Cumulative: $15.525,000
4. Avatar: The Way of Water (Disney) Week 11; Last weekend #2
$4,700,000 (-28%) in 2,495 (-180) theaters; PTA: $1,884; Cumulative: $665,384,000
5. Puss in Boots: The Last Wish (Universal) Week 10; Last weekend #4; also on PVOD
$4,120,000 (-23%) in 2,480 (-172) theaters; PTA: $1,451; Cumulative: $173,431,000
6. Magic Mike's Last Dance (WBD) Week 3; Last weekend #3
$3,000,000 (-45%) in 2,918 (-116) theaters; PTA: $1,028; Cumulative: $23,280,000
7. Knock at the Cabin (Universal) Week 4; Last weekend #6; also on PVOD
$1,870,000 (-53%) in 2,115 (-486) theaters; PTA: $884; Cumulative: $33,903,000
8. 80 for Brady (Paramount) Week 4; Last weekend #6
$1,830,000 (-51%) in 2,397 (-722) theaters; PTA: $763; Cumulative: $36,447,000
9. Missing (Sony) Week 6; Last weekend #9
$1,010,000 (-42%) in 1,006 (-510) theaters; PTA: $1,004; Cumulative: $31,419,000
10. A Man Called Otto (Sony) Week 9; Last weekend #10
$850,000 (-47%) in 1,118 (-607) theaters; PTA: $760; Cumulative: $62,281,000
Other Specialized titles
Films (limited, expansions of limited, as well as awards-oriented releases) are listed by week in release, starting with those opened this week; after the first two weeks, only films with grosses over $5,000 are tracked.
The Quiet Girl (Neon) NEW – Metacritic: 88; Festivals include:
$60,000 in 6 theaters; PTA: $10,000
Linoleum (Shout) NEW – Metacritic: 80; Festivals include: South by Southwest 2022
$20,000 in 13 theaters; PTA: $1,538
Path of the Panther (Wildpath/Grizzly Peak) NEW – Metacritic:; Festivals include:
$66,350 in 47 theaters; PTA: $1,412
My Happy Ending (Roadside Attractions) NEW – Metacritic:; Festivals include:
$26,050 in 126 theaters; PTA: $206
Bunker (Blue Fox)
$76,727 in 225 theaters; PTA: $341
Selfiee (Star) NEW – Metacritic:; Festivals include:
$203,000 in 308 theaters; PTA: $659
Of an Age (Focus) Week 2
$52,000 in 289 (no change) theaters; PTA: $289; Cumulative: $519,655
2023 Oscar Shorts (Shorts TV) Week 2
$468,000 in 310 (-60) theaters; PTA: $1,510; Cumulative: $1,601,000
Return to Seoul (Sony Pictures Classics) Week 2
$44,483 in 11 (+9) theaters; PTA: $4,044; Cumulative: $103,689
Emily (Bleecker Street) Week 2
$405,026 in 579 (+574) theaters; PTA: $700; Cumulative: $466,181
Crouching Tiger, Hidden Dragon (Reissue) Week 2
$56,812 in 144 (-331) theaters; PTA: $395; Cumulative: (adjusted) $275,100,000
Close (A24) Week 5
$119,398 in 233 (+117) theaters; Cumulative: $851,004
Living (Sony Pictures Classics) Week 10
$131,969 in 136 (-26) theaters; Cumulative: $2,592,000
The Whale (A24) Week 12; also on PVOD 363
$74,394 in 211 (-152) theaters; Cumulative: $16,767,000
The Fabelmans (Universal) Week 16; also on VOD
$35,000 in 316 theaters; Cumulative: $17,175,000
The Banshees of Inisherin (Searchlight) Week 19; also on HBO Max and VOD
$19,000 in 235 (-30) theaters; Cumulative: $10,421,000
Aftersun (A24) Week 20; also on VOD 15
$14,006 in 15 (no change) theaters; Cumulative: $1,598,000
TAR (Focus) Week 21; also on VOD
$28,000 in 236 (-18) theaters; Cumulative: $6,608,000
Everything Everywhere All at Once (A24) Week 49; also on PVOD
$115,628 in 309 (-81) theaters; Cumulative: $73,024,000
Source: Read Full Article