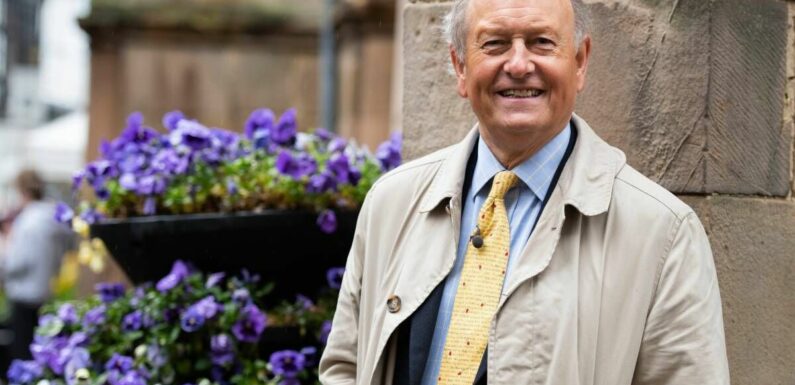 Bargain Hunt: Teapot sells for almost £400,000
Bargain Hunt wouldn't the be same without its team of experts who guide the red and blue contestants every episode in a bid to help them find the most high-valued items. Among them is fan-favourite Charlie Ross who has starred in not only Bargain Hunt but Antiques Road Show, Antiques Road Trip and Flog It! Here's everything there is to know about Charlie Ross away from the BBC series.
Where does Bargain Hunt expert Charlie Ross live?
Bargain Hunt star Charlie Ross was born in Buckinghamshire but now resides near Bicester Village, which is located just out of Oxford.
He has lived there with his wife Sally since 1981 so they have been together for at least 40 years.
Charlie is very private when it comes to his personal life so hasn't shared any details regarding how they met or about their relationship.
What is known is that the happy couple has two children together.
Charlie and Sally presumably brought up their two now grown-up children, Charlotte and Oliver, near Bicester Village.
Bicester itself is a historical market town in the Cherwell district of northeastern Oxfordshire and in 2021, had a population of more than 37,000.
Charlotte and Oliver have since gone on to have their own children, making Charlie a grandad four times over.
Apart from his life as a father and grandad, Charlie has also dabbled in the world of local theatre.
According to the Bargain Hunt star's local newspaper Bicester Advertiser back in 2010, Charlie has taken part in amateur dramatics.
He took on the role of Professor Henry Higgins in the classic musical My Fair Lady which he played twice at the Oxford Playhouse and once in Bicester.
Charlie's interest in the world of theatre thanks to his beloved wife Sally.
She was a member of the Bicester Choral and Operatic Society, although, it isn't known if she still performs with the club.
Don't miss…
Emmerdale fans 'work out' identity of Nicky's mum in DNA twist [REACTION]
David Dickinson 'has no plans to retire' after exit claims[EXPLAINER]
Christina Trevanion is a busy mum when she is not on Bargain Hunt [CAST]
Charlie hinted at his dramatic side during a profile interview with the BBC.
When he was asked how he likes to spend his free time, he replied: "Trying to sing and occasionally act."
He told the Bicester Advertiser: "The first musical I saw locally was Show Boat with Mike Cowdy, who lives in Caulcott. I thought I could have a go at that."
Charlie will now be back on the road, this time, heading to Oswestry for an antiques fair.
The synopsis for the upcoming episode reads: "Charlie Ross and the teams are in Shropshire.
"Experts Charles Hanson and Ben Cooper lead the reds and blues as they compete for bargains at an antiques fair in Oswestry.
"Meanwhile, Charlie visits a family firm in Llangollen who are crafting wood to make standing frames for people with spinal injuries."
Bargain Hunt continues weekdays at 12.15pm on BBC One.
Source: Read Full Article