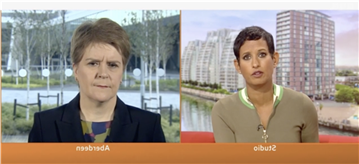 NAGA Munchetty has been slammed by BBC Breakfast viewers after she "continuously interrupted" Nicola Sturgeon during a heated interview.
The Scottish First Minister appeared on the show and accused the Government of doing "lasting damage" to the economy.
During her interview with Naga, she added that Lizz Truss's short tenure in No10 has been "utterly catastrophic".
It coms after the mini-budget sunk the pound and "brought pension funds to the brink of collapse".
Naga soon clashed with Sturgeon after asking her how she planned to transition from fossil fuel dependency to renewable energy sources.
But seconds into their discussion, Sturgeon implied that the BBC presenter hadn't been "listening" to her answers. 
READ MORE ON BBC BREAKFAST
Naga Munchetty leaves BBC Breakfast guest stunned by branding wife "awful"
Charlie Stayt shoots down idea that he and Naga Munchetty are 'good friends'
Naga asked: "What do you say about their jobs, transitioning, when does that happen to them?"
Scotland's First Minister replied: "If you've been listening to me I was directly addressing those points.
"I pointed out to you the economic impact and the number of jobs that are dependent on oil and gas."
"You did," Munchetty hit back, before adding: "And my question was, 'What happens to those jobs?'"
But before she could respond properly, Naga interjected and probed further – infuriating viewers in the process.
Taking to Twitter, one person penned: "Someone ought to tell Naga Munchetty that there is an art to good interviewing. Continual interruptions is not the way."
Most read in News TV
GMB's Kate Garraway issues heartbreaking update on husband Derek Draper
I'm A Celeb signs Strictly love rat Seann Walsh four years after scandal
Jeremy Clarkson appeals against order to close Diddly Squat restaurant & café
Paris Fury reacts to Molly Mae's baby gender reveal with sweet comment
Echoing their comments, someone else said: "In a rare display, Naga is actually being really rude and constantly interrupting – no wonder Nicola Sturgeon is getting frustrated."
While a third questioned: "Does Naga Munchetty have to make it so obvious that she dislikes Nicola Sturgeon?"
BBC Breakfast airs weekdays from 6am on BBC One.
We pay for your stories!
Do you have a story for The Sun Showbiz team?
Email [email protected] or call us direct on 0207 782 4220 .
We pay for videos too. Click here to upload yours.
Source: Read Full Article