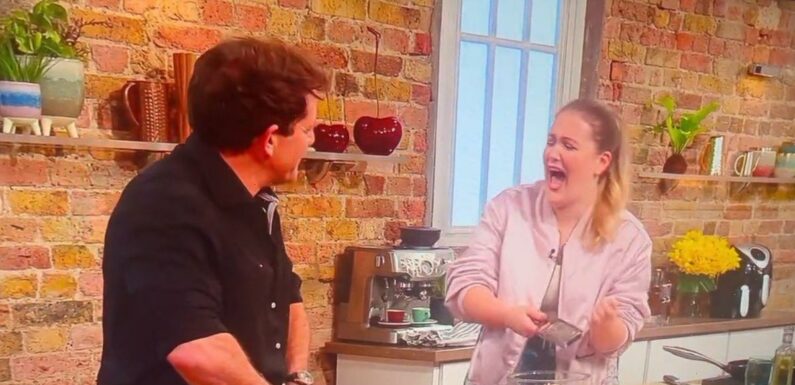 There was chaos on BBC's Saturday Kitchen as guest chef Poppy O'Toole repeatedly said a naughty word live on-air.
The TikTok personality was on the show to whip up a dish for Britain's Got Talent judge Alesha Dixon, alongside show host Matt Tebbutt.
Poppy, who has an impressive four million TikTok followers, was talking about how she amassed so many fans, and as she tried to say that it came "on a whim" she kept saying "q**m," a rude word for women's genitalia.
As they cooked, show host Matt questioned Poppy about how she made it big on the social media platform.
"It was when you were made redundant?" he asked.
To which she replied: "Yeah, absolutely. So the beginning of lockdown. It worked out very well. What a silver lining.
"I know, I'm very very lucky that that happened and it worked out, because it couldn't have."
She continued: "And it was just a little bit on a q**m… On a q**m? Is that the right word?"
A flustered Matt then had to step in to correct her, with her seemingly having no idea what the word "q**m" meant.
Laughing, she said: "No, not a q**m. What's a q**m?" before Matt said awkwardly: "Anyway, moving on."
Viewers of the show were quick to comment on the mishap, as they flooded Twitter to voice their amusement.
One tweeted: "Whats a q**m?' Best thing ever asked on Saturday morning TV" alongside laughing emojis.
Another wrote: "#saturdaykitchen did she really just ask what a 'q**m' was."
A third said: "Poppy right now not having a CLUE what she said lmao."
Someone else tweeted: "Wonderful wonderful scenes as the word q**m gets said twice instead of whim on #SaturdayKitchen. Highlight of the year so far."
"I'm here writing lecture notes about Tragi-Comedy but I can't stop laughing about the q**m slip of the tongue. #SaturdayKitchen #Quimgate," said another.
Another person praised Matt for how he handled the situation, as they wrote: "And the award for the keeping of the straight face of the year award goes to @matt_tebbutt the consummate professional!!!"
Poppy made light of the situation as she shared the video on Twitter, writing: "Q**m merch dropping soon."
Poppy has become big in the world of social media for her cooking skills, after starting a TikTok account during lockdown after losing her job as a kitchen chef.
She's popular for her recipes, which are easy for people to recreate in their own kitchens, and her Poppy Cooks account now has 3.8million followers.
READ MORE

Click here for today's top showbiz news
Love Island's Claudia Fogarty breaks silence after brutal dumping from villa
David Beckham 'asked Brooklyn to come to Paris to protect family brand'
Amy Winehouse biopic star swigs vodka on streets of Camden in heartbreaking scenes
For the latest showbiz exclusives, sign up to our daily OK! newsletter
Source: Read Full Article