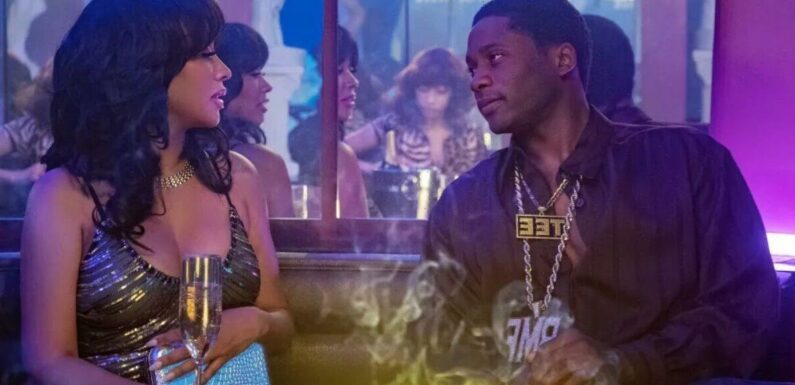 BMF: Starz releases teaser for latest episode
We use your sign-up to provide content in ways you've consented to and to improve our understanding of you. This may include adverts from us and 3rd parties based on our understanding. You can unsubscribe at any time. More info
Friday's episode of BMF saw Meech Flenory (played by Demetrius Flenory jr) and his brother Terry Flenory (DaVinci Juste) progress towards expanding their drug organisation. But despite securing more drugs than ever, fans believe Markeisha (Lala Anthony) will betray the brothers.
Throughout season two, Terry has been romantically pursuing Markeisha, even though he is dating the mother of his child, LaWanda Roosevelt (Sydney Mitchell).
Markeisha had also rejected him because she was married and had children with Terry and Meech's rival Boom (Peyton Alex Smith).
However, things took an interesting turn in episode eight, when the brothers secured an insanely large drug buy.
As a result, Terry wanted to offer Boom a business deal, but bumped into Markeisha first.
READ MORE: GMB viewers fume over 'embarrassing' Oakeshott interview
Watch everything on Lionsgate+ for FREE£5.99 £0 View Deal
Amazon has teamed up with Lionsgate+ to offer 7 days of its streaming service Lionsgate+ at no cost. Cancel anytime during the free trial and you'll pay nothing
As they waited for Boom, Terry told Markeisha: "I came to tell your boy that I got a new plug with the Columbians and he might want to start f******g with us.
"Becasue he can't compete with our prices or quantity."
To which Markeisha asked: "Oh so, you're the supplier now, you're not the buyer anymore?"
"Hell yeah," Terry confirmed as he handed over a case of cash for Boom.
Later in the episode, Markeisha invited Terry to dinner to celebrate and stated that she would wear "something sexy."
While Terry gushed, viewers were less than impressed and took to Twitter to share their suspicions.
@jakharicarroll_ wrote: "Yeah I don't trust Markeisha anymore lol she's being a little too nice to Tee."
A second fan @Shea_NxtDoor tweeted: "I feel like Markeisha's a snake it's something about her."
A fuming @ElleNorrisATL added: "Markeisha married with kids but dog Terry because HE has a baby mom and uses him for HER convenience."
@LeadingLadyTee stated: "Markeisha is an opp. I can smell it." (sic)
A suspicious @_RellyRel shared: "Markeisha wasn't even worried about Terry until he said he was about to be the plug. I'm with Meech on this one, I don't trust her."
While @LaBellaReina1 anticipated: "Markeisha cutting Terry's hair is giving Samson and Delilah. She's going to be his downfall."
After the two spent the night together, Markeisha convinced Terry to cut off his rat tail braid.
She claimed it was too "childish" because he was a "boss now" and claimed Terry should "trust" her.
Meech was also stumped at Terry's new do as he asked: "Where the hell is your tail."
However, Meech wasn't satisfied with his answer as he responded: "That's f*****g high treason and you know what this got Markeisha stank a*s written all over it."
BMF season 2 continues Fridays on Starz in the US and on Lionsgate+ in the UK.
Source: Read Full Article