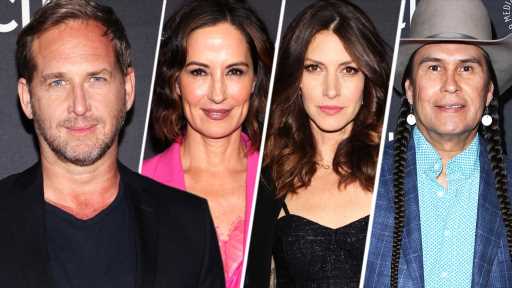 Yellowstone fans who felt bamboozled by Saturday's panel at the Dolby Theatre are being urged to reach out to the Paley Center.
Deadline has learned that a Paley rep will respond to those who email the organization directly at [email protected]. Ticket prices ranged from $30-plus to over $100 for the Yellowstone event that was originally billed as an all-star affair.
Related Story
Kevin Costner, Taylor Sheridan & 'Yellowstone' Leading Cast Drop Out Of PaleyFest In No April Fool's Joke
Instead, those who just about filled the Dolby on Saturday learned the entire lineup of stars had changed for the panel. Tickets were sold off the notion that creator Taylor Sheridan and star Kevin Costner would be in attendance, along with co-stars Kelly Reilly, Cole Hauser, Luke Grimes, Kelsey Asbille, Wes Bentley, Gil Birmingham and Jacki Weaver. 101 Studios CEO David Glasser was also going to participate.
After an old episode was screened, a Paley rep said that the panel had changed due to "scheduling conflicts" before an entirely new lineup was brought onstage — Keith Cox, President of Scripted at MTV Entertainment Studios, and actors Mo Brings Plenty (Mo), Dawn Olivieri (Sarah Atwood), Josh Lucas (younger John Dutton) and Wendy Moniz (Lynelle Perry).
There were audible gasps from audience members when they learned of the changes. Some yelled "where are they?" during the panel.
"Many fans paid a lot of money to see the cast of Yellowstone," wrote one reader named Dolores on the Deadline message board. "Some families traveled by planes, others drove hours just to get to Hollywood in order to see their favorite Yellowstone actors. Media knew 4 hours before the fans. As we were waiting for the evening program to begin I noticed that there were only 5 guest chairs plus the moderators. I mentioned to the fan next to me that not everyone was going to appear."
"Disappointing is not the only feeling I felt!" she continued. "Angry, pissed and disrespected that the cast didn't care enough for their fans whom spent their time and hard earned money to attend."
Cox tried to share a piece of good news at the panel, in light of Deadline's exclusive that production has been stalled due to Costner's shooting schedule and how the Paramount series might go in a new direction with Matthew McConaughey. When asked about the status of talks with Costner, Cox referred to him as "our star, the face of our show, and the executive producer" before saying "we are very confident he will continue with the show."
The room erupted in applause.
Cox then said an announcement about when production will resume is coming "soon" before adding that the coming episodes, "will be phenomenal. I am confident."
Must Read Stories
Austin Butler To Play Crime Boss Danny Ryan In Sony 3000 Adaptation Of 'City On Fire'
Bob Iger Talks Streaming, Calls Out DeSantis At Shareholders Meeting; Live-Action 'Moana'
Fox Orders Medical Drama 'Doc' From Barbie Kligman, Hank Steinberg & Sony Based On Italy Hit
Cineworld Reaches Chapter 11 Deal; Franchise Start For 'Dungeons & Dragons'?
Read More About:
Source: Read Full Article