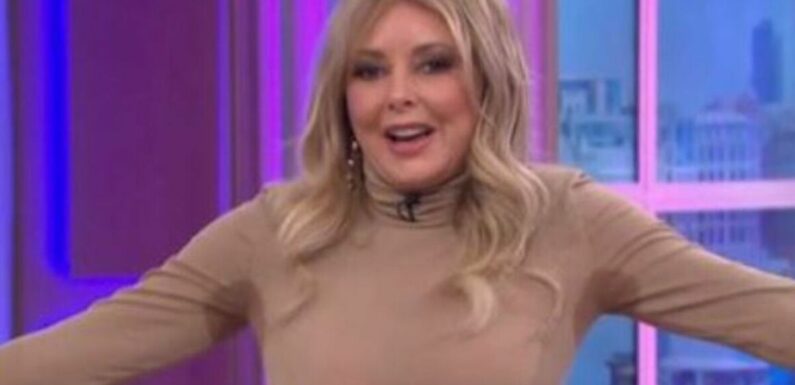 Carol Vorderman found a used condom in the jungle toilet
During the show, the two presenters were speaking about a garage that offers a discount if customers do a small dance for them.
As Alison asked Gyles Brandreth what his dance for money off would be, he confessed it would be "groovy" as he quickly stood up.
It wasn't long before the production team started to play some club music into the studio which prompted them all to get onto their feet.
While the 75-year-old did his best attempt at the robot dance move, Alison shouted: "Yes Gyles!"
Laughing at her friend's enthusiasm, Carol decided to join him as she showed off her own skills.
READ MORE:Dan Wootton launches another scathing rant about 'unpleasant' Phillip Schofield
Giving his robot a go, she told Alison and Dermot: "I'd be like this."
The 62-year-old then opened her arms wide and gave a small shimmy as she laughed at their antics.
After their impromptu dance party, Gyles confessed he thought everyone would be more child-like and add a skip into their step.
Although Carol admitted she already does, she said: "I skip every day. It's a natural thing, when I'm walking I start skipping."
Don't miss…
Mike Tindall sheds light on 'staring into space' at Coronation after night out[ROYAL]
Holly and Phillip 'missing' from This Morning promo[ITV]
Janice Dickinson's appearance sparks concern among I'm A Celebrity fans[REACTION]
It wasn't long before people took to Twitter to share their delight at her moves as DavidMackayy joked: "Carol doing her 'special friends mating call' dance on This Morning."
With LynnePorter3 adding: "I think Gyles and Carol should host This Morning. They are hilarious, I love them."
Carol's appearance on This Morning comes after viewers saw her get eliminated on Wednesday night in I'm A Celebrity…South Africa.
Her exit was down to being the slowest to complete a survival trial alongside former royal butler Paul Burrell.
Speaking about her time on the show this time around compared to her first appearance in 2016, she confessed: "It was a very different experience.
"The first time in Australia was so new. Every single thing was new. Of course, we'd all seen it on the telly, so when you got there, you were sort of reacting to that.
"This camp was completely different and there were many more surprises in this series. But, wonderful. Slightly more intense I would say. But some great people in this camp and that's what makes it really.
Carol was often seen sporting skimpy bikinis in the South African camp, which caught the attention of her fans.
This Morning continues weekdays on ITV from 10am.
Source: Read Full Article