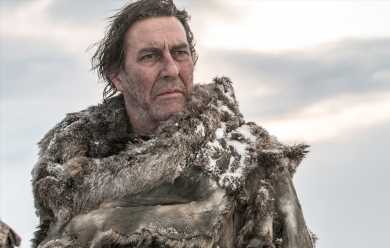 Ciarán Hinds is speaking out on the amount of sex in "Game of Thrones."
Following the infamous criticisms on nudity and sex portrayed in the hit HBO series, Hinds admitted that he was "rather put off" by just how much sex was shown.
"I was rather put off by the amount of sexuality that was going on in it, because it was taking away from the actual political storytelling," Hinds told The Independent. "But that's business, I guess, from their perspective."
Hinds portrayed Mance Rayder, aka the King Beyond the Wall, from Season 3 to Season 5. The "Belfast" actor is now set to appear in Season 2 of "The Lord of the Rings: The Rings of Power."
"Game of Thrones" prequel series "House of the Dragon" went out of its way to distance itself from the original series, based on George R.R. Martin's novels.
"'Game Of Thrones' had a negative reputation – which they'll admit — in terms of the press and the #MeToo movement, and with Emilia Clarke and other actors talking about how difficult and gratuitous it could be at times, and how much pressure they felt," intimacy coordinator Miriam Lucia told Deadline in September 2022. "So, I think what you get on 'House of the Dragon' is not only a production team that are sensitive to that, but you get a cast that is very aware of it and careful about what they will agree to. That precedent had been set."
Lucia continued, "[Sexual content and nudity] is part of the show, it's part of the essence of what it is, but we're in a new era. I was invited at the very beginning to be involved in rehearsals, discussions, read-throughs, so that everybody knew who I was, and it was all open."
"House of the Dragon" actress Emily Carey also spoke out about being "scared" to shoot a love scene with Paddy Considine who plays her onscreen husband, and is 30 years her senior in real life. Carey credited Lucia for being "amazing" in helping her prepare and feel safe on set.
"She basically said she was very frightened ahead of that scene, and that without an intimacy coordinator she wouldn't have known how to handle it," Lucia explained. "It was good to hear that following on from ['Game of Thrones' alum] Sean Bean's comments about how intimacy coordinators ruin spontaneity. But I get why he said that, because he doesn't have the same experience of it, and because this is a new function on sets."
Source: Read Full Article