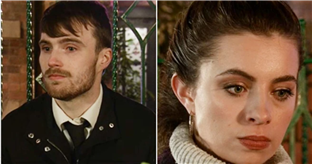 At the end of tonight's Coronation Street episode, it seemed that Daisy (Charlotte Jordan) had dealt with the problem of stalker Justin (Andrew Still) after finally getting him arrested. But with his sister coming to the Rovers and revealing a terrifying pattern of behaviour from Justin stretching right back to his childhood, we know that Daisy's ordeal is far from over.
Daisy was definitely in fighting-back mode in tonight's episode. When Justin turned up in the Street asking her to come to his mother's wake, she'd had enough. Pulling out her phone she started filming him as she told him she wanted nothing to do with him.
He tried to get her to stop, perhaps feeling some of the intrusion that Daisy has been experiencing for weeks. When Jenny (Sally Ann Matthews) saw the footage being live-streamed from Daisy's phone she rushed outside to see Yasmeen (Shelley King), Asha (Tanisha Gorey) and Tyrone (Alan Halsall) already on the scene and seeing Justin off.
Daisy was shaken after this encounter, but more shaken when a woman called Karen (Lynn Kennedy) came into the pub and said she was Justin's sister. She had some dire warnings for Daisy. 'I know what he's like,' she told the shocked barmaid. 'And I don't think you're the first.'
She said that Justin had been 'dangerous' even as a child. 'I got a few bruises,' she said before describing how Justin had become fixated on the sister of one of her friends – who was physically hurt by him. 'You need to go to the police,' she warned. 'You need to be really careful. He's dangerous.'
After hearing this, Daniel (Rob Mallard) thought they should go straight to the police but Daisy decided on another, more risky, approach.
She summoned Justin to Victoria Gardens and told him he needed to listen to what she was about to tell him. As she spelled it out that they were 'strangers' who had no relationship and reiterated that she was going to marry Daniel, Justin wondered whether she was recording the conversation on her phone again.
She wasn't, but what she did was to wind Justin up to the point where he physically lunged at her – and Craig (Colson Smith) and Daniel appeared. Craig (who hadn't known about the plan but had been called by Daniel at the last minute) arrested Justin and took him away.
Daisy's hope was that this would be the last they'll see of Justin. She told Daniel that she was firmly committed to marrying him on the date they'd arranged.
'Whatever happens, me and you walk down that aisle,' she insisted.
We know, however, that the wedding will go ahead – but that it certainly won't be plain sailing, with the bride notably absent from location filming of the wedding scenes. And with Justin set to step up his campaign against Daisy by targeting her with an acid attack, things are going to get even more terrifying for her.
Source: Read Full Article