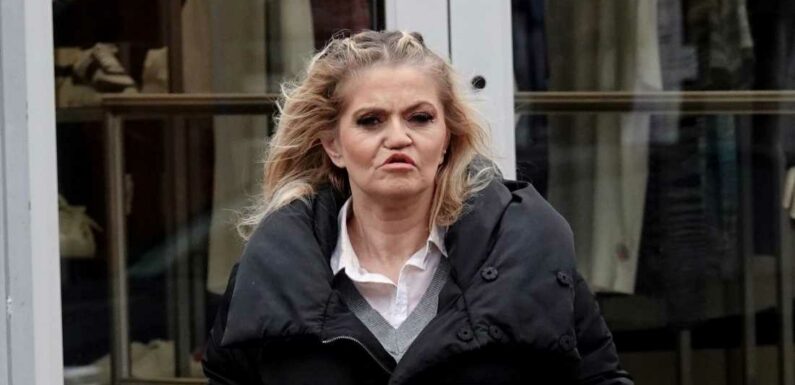 DANNIELLA Westbrook gave fans a treat when she stripped down to sexy lingerie soon after revealing shocking pictures of her bloody and bruised face.
The 49 year old actress has had her fair share of trouble over the years but she appears to have put her woes firmly behind her if her pictures are anything to go by.
The mum of two, took to social media and showed off her svelte figure in a series of pictures of her wearing lacy red lingerie to promote a club night in Liverpool.
She captioned her post saying: "Liverpool this weekend. C**m on now."
In one snap Danniella is seen with her back facing the camera as she simulates taking her bra off. And in another picture she is seen faced down, sat on a bed wearing high heeled shoes.
This comes after the star was spotted on a fruitful shopping trip in London where she was pictured laden with a few bags from Zee & Co.
More on Danniella Westbrook
Danniella Westbrook slams vile troll for 'bullying' her over her workout photos
Danniella Westbrook devastated after falling ill with nasty sickness
But it wasn't that long ago she posted shocking pictures from 1998 when she was involved in a car crash.
Danniella was 24 at the time and was in the car with her then boyfriend Robert Fernandez and their son Kai.
At the time, Danniella was at the height of her fame when she played Sam Mitchell in EastEnders and she is seen with a painful black eye and stitches.
She captioned the post saying: "Had more lives than ya average Pussy cat #blessed."
Most read in Celebrity
Prince George & Princess Charlotte's unusual nickname for dad Wills revealed
Noel Gallagher's wife Sara hires Harry's lawyer after filing for divorce
Shocking footage emerges of Love Island's Haris Namani in street brawl
Stacey Solomon reveals how often she changes her bed sheets & sparks debate

Source: Read Full Article