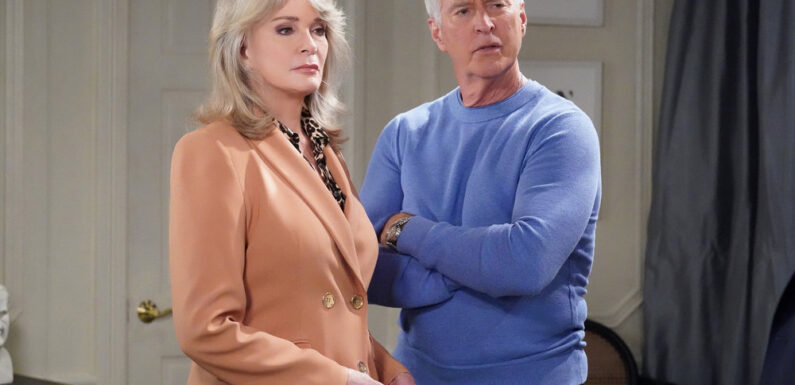 She's been possessed by the devil, proxy murdered by the Salem Stalker, and served as a psychiatrist probing dark secrets.
But most of all, actress Deidre Hall has been a survivor, spending almost five decades as Dr. Marlena Evans on daytime drama "Days of Our Lives." The fan favorite had a milestone to celebrate Friday, appearing in her 5,000th episode. That makes her the longest-running soap actress ever.
In the May 12 episode that marked the magic number, Evans and husband John Black (Drake Hogestyn) are seen at dinner, allegedly celebrating the good doctor's 5,000th patient.
Related Story
'Days Of Our Lives' Star Victoria Grace Withdraws From Daytime Emmys Nominations After "Huge Misunderstanding" Regarding The Rules
"I would like to propose a toast," John Black tells his wife. "To you, doc. What an incredible career you've had and continue to have. You've provided so much care and comfort to people in need. And through your hard work and determination, your dignity, your style, your grace—the most important thing—your loving heart.
"You have made an indelible mark on not only this town but the entire world," John Black adds, raising a glass. "So, here's to you, Dr. Marlena Evans. You are a true legend."
With that, he kisses his imaginary wife. She quips, "Maybe 5,000 isn't such a crazy number at all."
The show also saluted the 47 years of appearances with flashbacks to some of her special moments on the show. That included her first appearance in June 1976.
Hall spoke to KTLA reporter Sam Rubin about her 5,000 shows.
"It's always my first day when you start to get a 13-week contract, and then I kept thinking, 'Oh, maybe I'll get more than 13 weeks, maybe they'll like me a little bit,'" she said to Rubin.
Must Read Stories
Mel Gibson Returns To Director's Chair For Lionsgate's 'Flight Risk' Starring Mark Wahlberg
Tonys Won't Be On TV After Guild Denies Waiver; Katie Porter & More From Picket Lines
Director Albert Hughes On What To Expect From 'John Wick' Prequel Series
'Hypnotic' Helmer Robert Rodriguez Reveals His Influences: The Film That Lit My Fuse
Read More About:
Source: Read Full Article