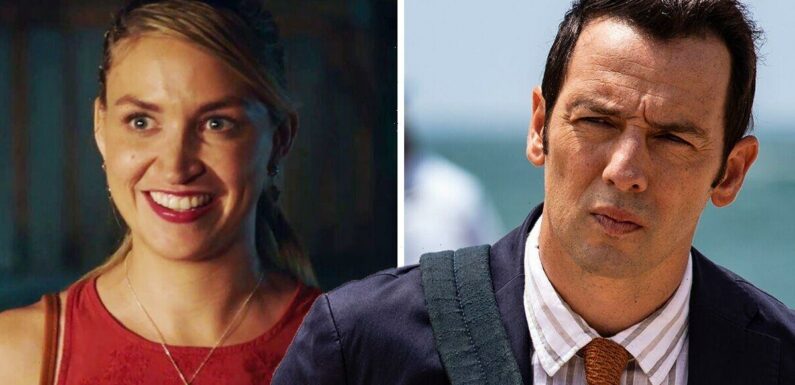 Death in Paradise is my 'home' says Ralf Little
We use your sign-up to provide content in ways you've consented to and to improve our understanding of you. This may include adverts from us and 3rd parties based on our understanding. You can unsubscribe at any time. More info
Unlucky-in-love Neville Parker (played by Ralf Little) finally enjoyed some romance in Death in Paradise after growing close to Sophie (Chelsea Edge), who fans were introduced to in the Christmas special. After an awkward initial encounter the pair enjoyed each other's company and subsequently a kiss. However, fans have predicted this could spell trouble for the detective.
In the first episode of the new series, Sophie revealed to Neville that she's only in Saint Marie for 10 days.
The solo traveller will be heading back to her life in Manchester when her trip comes to an end.
Death in Paradise fans have predicted Ralf may decide to leave his life in Saint Marie behind and join his new romantic interest in the UK.
Some viewers think he will following in his predecessor Humphrey Goodman's (Kris Marshall) footsteps.
Read more: All we know about the Death in Paradise season 12 episode count
@greagsy tweeted: "@deathinparadiseSo I take it Neville will do a Humphrey and move back home with Sophie in the near future."
@iamgillT questioned: "Is this the beginning of the end for Neville #DeathInParadise."
"I hope Sophie being a love interest doesn't mean Neville is leaving #DeathInParadise," @DebbieBlackma14 added.
@kodiakmoonwolf shared: "#DeathInParadise Ok Neville's finally grown on me, it's certainly taken time but he's grown on me…now the question is…is this his last season? The crystal ball is not working."
Death in Paradise is known for its excellent roster of guest actors.
In a recent interview, Neville star Ralf admitted he was always impressed by the stars that join the series.
He said: "As an actor who's spent a lot of my career being known for one style of work and therefore had to work quite hard to do other stuff, one of the things I think is so great about this show is that they fearlessly cast against type.
"They're very happy to go, 'This is supposed to be an unpleasant, manipulative, dodgy character, what about Les Dennis?'"
DON'T MISS
Death In Paradise's Ralf Little addresses uncertain future on show [INTERVIEW]
Ralf Little refuses to confirm future on Death in Paradise [INSIGHT]
Death in Paradise season 12 episode 1 cast explained as premiere drops [INSIGHT]
Ralf shared: "That's brilliant, and they do that a lot. He's a brilliant actor. It was lovely to see him enjoying being completely different. Anytime that happens, it's always really good fun.
"Another perfect example is Robert Webb. I'm a huge fan of his.
"It was a chance for him to do something completely different and I think he really relished it.
"He was a joy to have around. Kevin Eldon too as he's basically a walking God in the comedy community. Kevin's so known for being able to do anything that just having him felt like a massive coup and we felt lucky to have him."
"It's lovely to ask the guest stars how they're enjoying it and have them go, 'Yeah, I'm enjoying doing something different and it's nice to have somebody take a chance,'" he continued.
"It's always nice for me, as someone with a background in comedy, to get to do something different, and then to see that happen to other people.
"The show continues to attract fantastic, heavyweight actors. I think that's partly because of its success, partly because the scripts are good, partly because it's willing to take a chance on allowing people to do different things – and it doesn't hurt that it's filmed in the Caribbean!"
Death in Paradise continues on BBC One on Friday at 9pm.
Source: Read Full Article