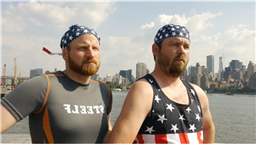 EXCLUSIVE: Drafthouse Films has acquired North American rights to the documentary Chop & Steele, about the creators of the Found Footage Festival, announcing plans to release the film in April at Alamo Drafthouse theaters as part of a double bill with another newly-acquired doc, A Life on the Farm.
Chop & Steele premiered at Tribeca in 2022 and went on to a robust North American festival run that encompassed Calgary, Philadelphia, Seattle, Denver, the Heartland International Film Festival in Indianapolis, the Sidewalk Film Festival in Birmingham, Ala., and the San Francisco Independent Film Festival.
Related Story
Distributor Giant Pictures Acquires Drafthouse Films, Sets Nick Savva As New CEO, Tim League Chairman
In Chop & Steele, Found Footage Festival principals Joe Pickett and Nick Prueher, "lifelong friends who tour the country with their popular VHS oddities festival, are slapped with a federal lawsuit after pranking a local news station as 'strong men' Chop and Steele. Many notables are featured in the doc, including David Cross, Bobcat Goldthwait, Reggie Watts, and Howie Mandel."
Ben Steinbauer (Winnebago Man) and Berndt Mader directed and produced the documentary. Fellow producers are Priest Batten, Greta Kovach, Mike Saenz, Katie Steinbauer, Don Swaynos, and Janice Woods. The executive producers are Wavelength's Jenifer Westphal, Russell Wayne Groves, Joe Plummer, Bernt Mader, and Ben Steinbauer.
"We're excited for the world to finally see the most stressful days of our lives," Pickett and Prueher said in a statement. "Chop & Steele is an inspirational story about friendship and perseverance, and frankly it is no different than the doc that won the Oscar about the guy who climbed mountains without any rope. It's self-inflicted misery of the highest order, and we can't wait to hit the road with Drafthouse Films and start choppin' some sticks."
Alamo Drafthouse Cinema and Drafthouse Films founder Tim League said, "I've known the legendary showmen Nick Prueher and Joe Pickett for years as they have entertained our audiences coast to coast with the Found Footage Festival. Chop & Steele, however, peeled back a layer to expose their truly bizarre and impish side project. This makes me love them even more."
Beginning next month, Chop & Steele will be screened as a double feature along with A Life on the Farm, a documentary directed by Oscar Harding and executive produced by Pickett and Preuher that Drafthouse Films also just acquired. "The documentary follows the discovery of a VHS tape, naturally, titled 'A Life on the Farm,' that was produced by isolated British farmer Charles Carson. Seemingly sweet and innocuous, the homemade doc gets increasingly darker as bits and pieces of Carson's esoteric worldview comes into light."
Drafthouse Films' CEO Nick Savva negotiated the deals with Jessica Lacy and Oliver Wheeler from Range Media Partners for Chop & Steele, and Oscar Harding for A Life on the Farm.
Drafthouse Films describes itself as "a curated brand of provocative, visionary and artfully unusual films from around the world. Our mission is to share the films we love with as many people as possible. Releases include NR. 10, Masking Threshold, Bullhead, The Act of Killing, Borgman, The Invitation, Spring, Cheap Thrills, The Congress, and 20,000 Days on Earth."
Must Read Stories
Corporation In Crisis As Sports Shows Stood Down En Masse Over Lineker Row
'Dungeons And Dragons' Fires Up Festival On Opening Night; Reviews; Hot List; More
'Scream VI' Getting Loud As Sequel Cuts Path To Franchise-Record $43M+ Opening
Roku Had One-Fourth Of Its Cash In Failed Silicon Valley Bank, Most Of It Uninsured
Read More About:
Source: Read Full Article