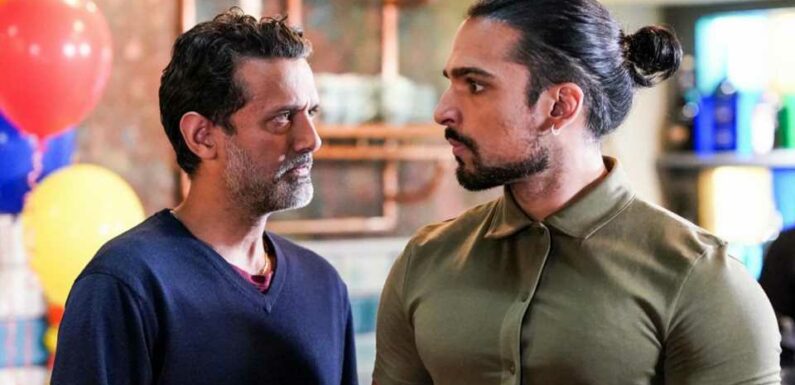 SUKI Panesar is one of six matriarchs to be involved in an explosive murder mystery due to unravel at Christmas.
However, some EastEnders fans believe a character close to her was sadly abruptly sacrificed for the whodunnit.
A flashforward scene recently revealed to BBC One viewers teased a major storyline for the Minute Mart owner portrayed by Balvinder Sopal, alongside Linda Carter, Sharon Watts, Denise Fox, Stacey Slater and Kathy Beale.
Fans have since been counting the months until Christmas 2023, which is supposedly when they'll find out who the six beloved Walford ladies have killed and why.
But months before the flashforward, Suki was involved in another murder plot which was cut short when her son Kheerat Panesar was taken away by the police.
Viewers have taken to a Digital Spy forum after finding out about the upcoming storyline and couldn't help but wonder if the businessman played by Jaz Deol was hurriedly scrapped for its benefit.
More EastEnders
Dying Lola Pearce devastated by cheating bombshell in EastEnders
EastEnders fans devastated as Whitney Dean is given awful information
"Anyone else think the Ranveer murder plot was wiped off the board to make way for this new Mystery?", one fan of the London-based drama penned.
They added: "Kheerat left very suddenly and that entire storyline seemed to be pushed aside. We've bedded Nish and Ravi into the Square to support this new murder storyline."
"It just felt like they had something else planned for the Panesars and the board was cleared to make way for the flash forward. Nina, gone, Kheerat, Gone."
Nish and Ravi are both suspected to be a part of the storyline and many fans believe one of them could be meeting their demise in ten months.
Most read in Soaps
Dying Lola Pearce devastated by cheating bombshell in EastEnders
EastEnders fans devastated as Whitney Dean is given awful information
Eastenders star welcomes TWINS – and reveals babies' adorable names
Emmerdale's Caleb Milligan issues chilling warning to Amy Wyatt
Another viewer jumped in to reply to the original poster.
"I agree. Surely the whole Ranveer death storyline was meant to run longer than it did."
"It all felt very rushed, probably because somebody came up with the Christmas Day plot."
As viewers of the long-running drama will remember, Suki Panesar was targeted by Ranveer Gulati and the latter tried to rape her before she knocked him unconscious.
When Ravi walked in on her, she thought he would call the police and turn her in but he, instead, helped her get rid of what she thought was Ranveer's dead body.
EASTENDERS NEWS
Everything you need to know about Eastenders
New, leaving and returning Eastenders cast
Can you visit the Eastenders set?
All the latest spoilers from Eastenders
The Sun's soap spoiler live blog
The best bits from Eastenders over the years
Ranveer eventually woke up while Suki's back was turned and Ravi finished the job, deciding to frame her for the murder.
The gangster played by Aaron Thiara tried to get rid of Ranveer's body but it was found by a jogger in October, 2022.
Months went by before Kheerat figured out most of what had happened but, in his mind, Suki is the only one responsible for Ranveer's death.
Read More on The Sun
Gaz Beadle's wife hits back after she's mum-shamed over car seat
Nursery teacher reveals there are five types of mums when it comes to drop off
In an attempt to protect her, and despite his growing romance with Stacey Slater, Kheerat took the blame for his mother and was last seen in late 2022, while he was being taken away by the authorities.
EastEnders airs from Monday to Thursday at 7.30pm on BBC One.

Source: Read Full Article