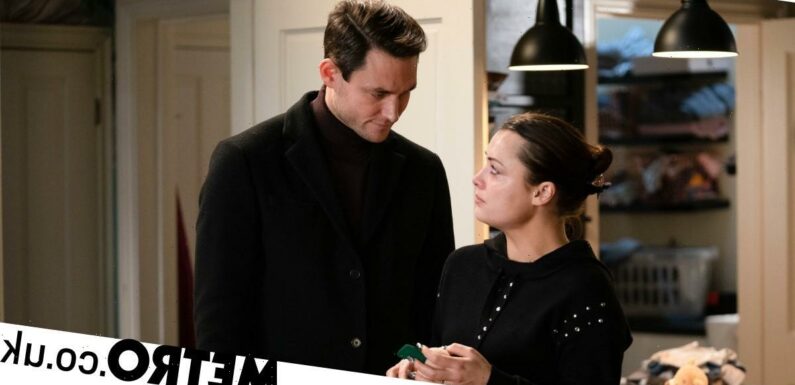 EastEnders fans have heaped praise on the show following tragic scenes which saw Whitney Dean and Zack Hudson say goodbye to their beloved baby Peach.
The couple, as viewers know, discovered earlier this month that their baby had Edwards' Syndrome, which is a rare condition that occurs when a baby has three copies of chromosome 18, instead of the usual two.
Babies with the condition are unlikely to live past birth, with only about 13 in 100 babies born alive living past their first birthday.
After receiving the news, Whitney decided to terminate the pregnancy, with scenes last week seeing her deliver baby Peach in a heartbreaking episode.
The following outing of the serial, which aired on Monday (March 6), centred entirely on this storyline strand, with Whitney and Zack having different views on when they should leave the hospital, with the pair subsequently coming together to say one final goodbye to their beloved baby daughter.
The episodes have received acclaim from fans, with many singling out actors Shona McGarty and James Farrar for their incredible performances throughout.
'shona and james have absolutely broken me this storyline but they deserve every award they will get,' wrote on social media user, while another said: 'Hope James and Shona get some awards for this storyline, they've been incredible #EastEnders.'
One Twitter user wrote: 'I can't really talk much about Whitney & Zack's storyline other than to say kudos to Shona & James for doing such a marvellous job with it.
'Absolutely heartbreaking.'
Rare that I ever talk about Eastenders on here but I've been really moved by Whitney and Zak's storyline as it's something my family sort of went through last year and I think they've done it so movingly and appropriately. Some stunning performances from them both.
shona and james have absolutely broken me this storyline but they deserve every award they will get. #EastEnders pic.twitter.com/6jbMqGHF9O
It wasn't just Shona and James that received praise, however, with a number of fans singling out EastEnders and all those who work on it for highlighting such an important topic via this storyline.
'This #EastEnders storyline, the writing & performances have been absolutely, heart-breakingly spot on,' wrote another user.
'I can't stop crying. Bravo @ShonaBM @[email protected] & everyone at [email protected]'
EastEnders continues Wednesday March 8 at 7:30pm on BBC One.
If you've got a soap or TV story, video or pictures get in touch by emailing us [email protected] – we'd love to hear from you.
Join the community by leaving a comment below and stay updated on all things soaps on our homepage.
Source: Read Full Article