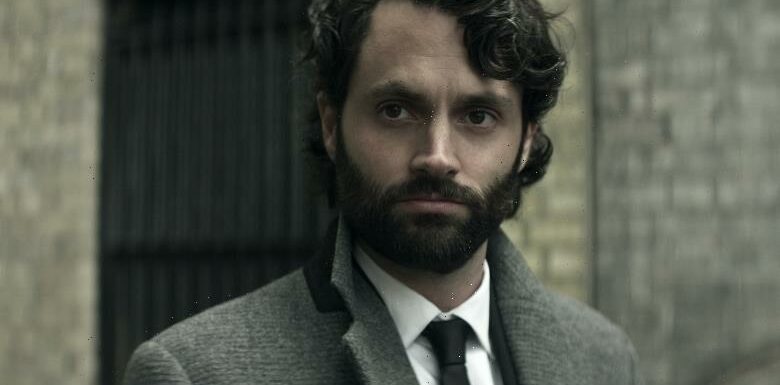 March is a time for madness, whether it comes from basketball, Mercury retrograde, or a person's home streaming habits. Netflix joins in on the chaos by updating its library with all three "Hangover" movies, a whole lot of workout content, "Magic Mike XXL," and much, much more.
On March 9, the streamer will premiere Part 2 of "You" Season 2, starring Penn Badgley, Charlotte Ritchie, and Ed Speleers. The five remaining episodes find Joe (Badgley) trapped in a volatile dance with London mayoral candidate and serial killer Rhys (Speleers), trying to prevent more murders but also not go down for the many he's committed in the process. The trailer shows Joe and Kate (Ritchie) growing closer, more brushes with Kate's wealthy socialite friends, and the return of Victoria Pedretti as Joe's wife Love — or maybe the ghost of his wife, and of sins past.
"You" Season 4 Part 2 premieres March 9. For more on what's coming to Netflix in March, see below.
March 1
"Big Daddy"
"Burlesque"
"Cheat"
"Easy A"
"Forged in Fire: Knife or Death" Season 2
"The Hangover"
"The Hangover: Part II"
"The Hangover: Part III"
"Little Angel: Volume 2"
"Magic Mike XXL"
"National Lampoon's Animal House"
"Open Season"
"Open Season 2"
"Out of Africa"
"Rango"
"Seven Years in Tibet"
"Sleepless in Seattle"
"Spirit: Stallion of the Cimarron"
"The Other Boleyn Girl"
"Tonight You're Sleeping with Me"
"Wrong Side of the Tracks" Season 2
March 2
"Framed! A Sicilian Murder Mystery" Season 2
"Karate Sheep"
"Masameer County" Season 2
"Monique Olivier: Accessory to Evil"
"Sex/Life" Season 2
"This Is Where I Leave You"
March 3
"Love at First Kiss"
"Next in Fashion" Season 2
"Split the Root"
March 4
"Chris Rock: Selective Outrage"
"Divorce Attorney Shin" Season 1
March 6
"Ridley Jones" Season 5
March 7
"World War Z"
March 8
"Faraway"
"MH370: The Plane That Disappeared"
March 9
"You" Season 4 Part 2
March 10
"The Glory" Part 2
"Have a nice day!"
"Luther: The Fallen Sun"
"Outlast" Season 1
"Rana Naidu" Season 1
"10 Minute Workouts" Volume 2
"20 Minute Workouts" Volume 2
"30 Minute Workouts" Volume 2
"Abs & Core" Volume 1
"Bodyweight Burn" Volume 2
"Fire & Flow with Tara & Xochilt" Volume 1
"Fitness for Runners" Volume 1
"High-Intensity Training" Volume 2
"Ignite & Inspire" Volume 1
"Kick Off with Betina Gozo" Volume 1
"Lower-Body Workouts" Volume 1
"Upper-Body Workouts" Volume 1
"Yoga" Volume 1
"Yoga with Xochil" Volume 1
March 14
"Ariyoshi Assists" Season 1
"Bert Kreischer: Razzle Dazzle"
March 15
"The Law of the Jungle" Season 1
"Money Shot: The Pornhub Story"
March 16
"The Chronicles of Riddick"
"Kick-Ass 2"
"Pitch Black"
"Riddick"
"Shadow and Bone" Season 2
"Still Time"
March 17
"Dance 100″Season 1
"In His Shadow"
"Maestro in Blue" Season 1
"The Magician's Elephant"
"Noise"
"Sky High: The Series" Season 1
March 20
"Carol"
"Gabby's Dollhouse" Season 7
March 21
"We Lost Our Human"
March 22
"Invisible City" Season 2
"The Kingdom" Season 2
"Waco: American Apocalypse"
March 23
"Johnny"
"The Night Agent" Season 1
March 24
"Chor Nikal Ke Bhaga"
"Love Is Blind" Season 4 Premiere
March 28
"InuYasha" Seasons 4-5
"Mae Martin: SAP"
March 29
"Emergency: NYC"
"Unseen" Season 1
"Wellmania" Season 1
March 30
"Big Mäck: Gangsters and Gold"
"From Me to You: Kimi ni Todoke" Season 1
"Unstable" Season 1
March 31
"Copycat Killer" Season 1
"Diary of a Mad Black Woman"
"Henry Danger" Seasons 4-5
"Kill Boksoon"
"Murder Mystery 2"
"Teenage Mutant Ninja Turtles" Season 2
Source: Read Full Article