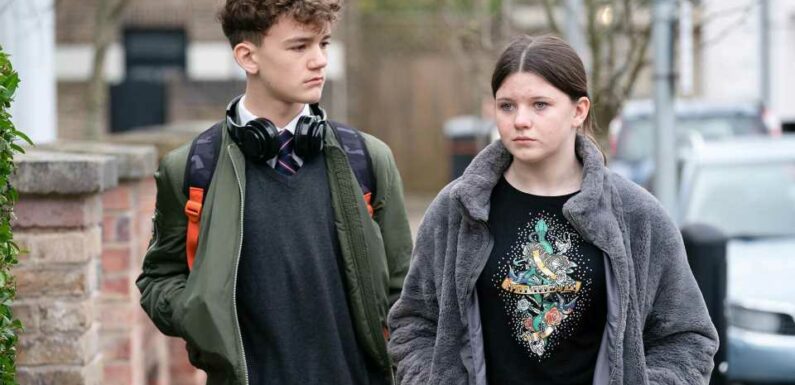 AFTER the shock of Lily Slater's pregnancy, Martin Fowler will be uncovering another huge secret.
Three EastEnders characters are ready to move on from the Square as another prepares for their biggest commitment.
1. Martin makes a shock discovery
Martin Fowler (played by James Bye) was furious when he was told by social services that his young stepdaughter was expecting a baby.
He was initially kept in the dark by Stacey Slater (portrayed by Lacey Turner) until an investigation was launched by the police and social services.
This is due to Lily's (Lillia Turner) VERY young age as she legally cannot consent to sexual intercourse.
She's recently been asked to reveal who her baby daddy is but she only accepted to share the information with her mother and grandmother Jean (Gillian Wright).
More EastEnders
This is why EastEnders is not on tonight
EastEnders' James Bye renews wedding vows – but it does not go to plan
Coming up, Stacey and Martin are on tenterhooks as they try to help their daughter.
Lily heads out into the Square for some fresh air and is rattled by a conversation with Whitney Dean (Shona McGarty) about her baby.
Conflicted, she confides in Kat Slater (Jessie Wallace) who understands how she feels.
The owner of Kat's Cabs takes her home to a worried Martin and Stacey.
Most read in Soaps
Former EastEnders star Jasmine Armfield reveals exciting career move
Hollyoaks' Jennifer Metcalfe strips topless for playful snap
EastEnders fans believe show legend will buy the Queen Vic in major twist
EastEnders' Kelsey Calladine-Smith looks worlds apart from character Jada
Later on, Ricky Jr. (Frankie Day) checks in on Lily… and Martin works out he's the father of her baby.
He then threatens to tell the Brannings, insisting the police have to be told that Ricky is responsible.
The Slaters and the Brannings come to blows in a later harsh exchange and some unforgivable words are thrown around.
Is there a new feud brewing?
2. Three residents ready for a fresh start
Speaking of Ricky, he may have to say goodbye to someone close to him sooner than he'd like.
Tensions begin to arise between him and his mother Sam Mitchell (Kim Medcalf).
The latter is bound to feel torn as her relationship with Ricky Butcher is slowly evolving and the pair could be heading off to Germany with Scarlett Moon.
Scarlett is staying with her uncle following her mother Janine Butcher's arrest for her unlawful and dangerous scheming.
Coming up, Ricky Butcher (Sid Owen) is making plans for his new life with his niece Scarlett and Sam.
But his excitement isn't as contagious as he may believe as Sam is worried about telling her son Ricky Jr. that she'll soon be leaving the Square, less than a year after her return.
When a terrified Lily tells him he's the father of her baby, mortified by the thought of the police getting involved, Ricky Jr. rushes off in a panic.
He bumps into his mother and blurts out the news – but Sam blows her chance to console him and upsets him even further by announcing she's moving to Germany.
Sam is desperately trying to make things right with her son, while a blissfully unaware Ricky Butcher is searching for an engagement ring for her.
Both Phil Mitchell (Steve McFadden) and Kat Slater (Jessie Wallace) are stunned to find out Sam is still willing to leave Walford, despite Ricky's ordeal.
Sam heads over to the Branning household to explain herself but Jack Branning (Scott Maslen) is fuming as their young son could face criminal charges for being intimate with Lily Slater.
This prompts the copper to apologise to Ricky Jr. for his anger and for neglecting him in favour of his sister Amy.
The pair are later spotted by Sam leaving for the police station and she feels awful.
Yet, when she turns around, Ricky Butcher is down on one knee with an engagement ring in hand…
Sam then turns up at the police station to support her son.
Jack loses his temper, leaving Sam to sit in with Ricky at the interview and the youngster is glad to have her there.
Back in Albert Square, Ricky is stressing that Sam is so late, they could miss their plane.
She finally arrives and Ricky urges her to get moving.
But will she really leave with him and Scarlett Moon?
3. Lola gets ready for her wedding
After being diagnosed with an inoperable brain tumour, Lola (Danielle Harold) is determined to live her life as she wishes and tie up any loose end she can.
This prompted her to accept Jay Brown's marriage proposal during the festive season.
With the ceremony fast approaching due to Lola's wish to get married as soon as they could, she begins to stress about her hen do.
She feels awful and believes she looks terrible.
Ready to make sure she has a good time, Jay (Jamie Borthwick) gets Denise and Kim Fox (respectively played by Diane Parish and Tameka Empson) to swoop in and give her quick glow-up.
Lola arrives at her hen do, feeling amazing and ready to enjoy a happy night with her nearest and dearest friends.
In later scenes, Billy and Jay become worried when Lola is secretive with her phone.
Billy swipes the device to find out what Lola is hiding, annoying Jay who is already horrified by Kim's choice of costumes for him at his stag do.
The mechanic reluctantly agrees to look at Lola's phone and joins Billy… before his other half walks in, finding them invading her privacy.
Matters could be getting worse when, the morning of her wedding, Lola begins to feel very unwell.
Kim arrives to help her get ready and Lola admits she's experiencing worrying symptoms.
Once Denise and Kim are finished with her hair and makeup, Lola begins to panic about her future with Jay and her daughter Lexi.
Lola is encouraged by Kim to make the most of every moment she has.
Before the wedding, Kim and Lola take a detour to the hospital so she can get checked out.
Lola shocks Kim when she tells her, later on, that she won't be able to marry Jay that same day – could her health have taken a turn for the worse?
Elsewhere in Albert Square, Jay has a heart-to-heart with former partner Honey Mitchell who drops a bombshell on him.
She accidentally lets slip that Billy is off on a secret mission…
EASTENDERS NEWS
Everything you need to know about Eastenders
New, leaving and returning Eastenders cast
Can you visit the Eastenders set?
All the latest spoilers from Eastenders
The Sun's soap spoiler live blog
The best bits from Eastenders over the years
4. Billy goes on a hunt
Meanwhile, Billy Mitchell (Perry Fenwick) decided to track down Lola's mother as a wedding present to her.
The market trader has a false start in his search for Emma Harding, leading to Phil Mitchell to put some feelers out for him.
Later on, Phil has good news for Billy as he hands him the contact details for Lola's mother…
Billy's secret mission is well underway when he manages to find Emma at her work and tells her who he is.
Whether she agrees to follow him to her own daughter's wedding remains to be seen but Jay finds Billy and berates him for going behind Lola's back.
However, he's rattled when he arrives at the wedding venue, only to notice Lola is nowhere to be seen.
Actress Patsy Kensit makes her EastEnders debut this week as Lola's estranged mother Emma Harding.
Will her character be able to reconnect with Lola?
5. Sonia is made homeless
Weeks after finding out about Dot's death, Sonia Fowler receives terrible news about her home.
Worse yet, she could even be thrown out in the cold.
The nurse played by Natalie Cassidy learns that she owes a huge amount of inheritance tax on her step-grandmother's house.
Sonia is stressed, anxious she may not be able to afford it.
Despite him ghosting her, she decides to call Reiss Colwell (Jonny Freeman) but he tells her there's no way he can help.
She reasons that she'll have to sell Dot's house to pay the bill but is heartbroken to leave her home.
In later scenes, however, she's shocked to find Reiss on her doorstep and he apologises to her – he didn't mean to ghost her.
The pair sit down to look over the inheritance tax issue but can they find a solution?
Sonia then makes a move on Reiss.
How will he respond?
Read More on The Sun
Thousands of Brits will be given FREE ticket to King Charles' Jubilee bash
I'm a gypsy girl – everyone says same thing when they look inside my mobile home
Could there be romance in the cards for Sonia?
Tune in to BBC One this week to find out.
Source: Read Full Article