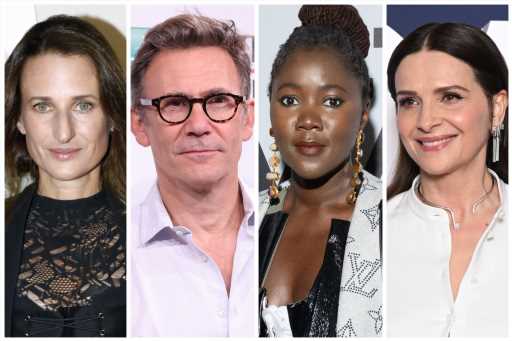 More than 300 leading figures from the French film and TV world have gotten behind a petition decrying controversial pension reforms spearheaded by the government of President Emmanuel Macron.
French stars Juliette Binoche, Audrey Fleurot, Camille Cottin, Swann Arlaud, Jeanne Balibar, Bérenice Béjo, Laure Calamy, Camille Cottin, Pierre Deladonchamps and Noémie Merlant; directors Michel Hazanavicius, Alice Diop, Kim Chapiron, Maimouna Doucouré, Robert Guédiguian and Alain Guiraudie, as well as producer Saïd Ben Saïd were among the signatories.
Related Story
Vivendi Posts $1B Loss For 2022 On Telecom Italia Deconsolidation But Expresses Confidence As Revenues Grow
"It is high time to make our voices heard, because cinema, theater, culture, even if they sometimes offer dreams and a means of escape, above all speak of our world," read an open letter to Macron accompanying the petition.
The petition was launched under the banner of the Cinema Entertainment Collective on the Liberation newspaper website on Thursday afternoon, as a national strike brought public services to a standstill and saw outbreaks of violence across the country as demonstrators clashed with the country's notoriously heavy-handed CRS riot police.
Under the reforms, the official retirement age in France is set to gradually rise by two years to 64 by 2030 while the period over which workers will need to make social security contributions will increase to 43 years from 42 years to draw a full state pension by 2027.
Macron's government led by Prime Minister Elisabeth Borne further stoked anger over the measures after it pushed through the reform bill without a parliamentary vote, using article 49:3 of the constitution to do so.
"You have chosen to force through a pension reform, unfair, ineffective, affecting the most precarious and women the hardest, rejected by the vast majority of the population, and even a minority in the National Assembly," read the petition letter. "We say that we are opposed to this reform and to the method of forcing through 49.3."
The petition added that as well as impacting public sector workers, the reforms would also have implications for professionals in the entertainment sector, particularly women.
"With regard to our professions, our supervisory ministry [the Ministry of Culture] has not produced any response to requests for a study of the impact of the reform, in particular on artists and technicians working on intermittent contracts as well as filmmakers."
"Surveys have amply demonstrated that precarity is even greater for women than for men and that roles are rarer after 50 for us actresses for example."
"If the best known among us are not the most affected by the postponement of the retirement age and the increase in contributions, we know that it is not possible to work for longer when a growing number of people are unemployed, in precarious conditions, suffering at work, and even in danger of dying before they even reach retirement age."
Political pundits inside and outside of France say Macron, who cannot seek re-election as president because he is in his second term in the role, is unlikely to back down.
Industrial action and demonstrations are expected to continue into the coming days and weeks, with unions calling for another national strike on March 28.
Against this backdrop, a state visit by the UK's King Charles to France next week, in what would have been his first official overseas trip since becoming king, has been postponed.
King Charles and the Queen Consort Camilla had been scheduled to travel to France on Sunday (March 26) for a three-day visit and then head to Germany.
The official program featured a wreath-laying ceremony at the Arc de Triomphe, the opening of a new Manet and Degas exhibition at the Musée d'Orsay and a state banquet in Paris as well as a visit to the city of Bordeaux in southwest France.
Bordeaux's town hall, which was due to host an event for the king, caught fire briefly on Thursday during demonstrations, with flames badly damaging its ornate wooden front door.
French deputy Mireille Clapot, who is a member of Macron's La République en Marche party, had earlier batted back suggestions that the trip should be postponed in an interview with BBC Radio 4's Today morning news program on Friday.
"He is welcome. Don't worry, security will be ensured and it is good to promote the friendship between France and Britain," she said.
The Elysée presidential palace announced a few hours later that a decision had been taken to postpone the trip.
"Given yesterday's announcement of a new national day of action against the pension reforms on Tuesday, March 28 in France, the visit of King Charles III, initially scheduled for March 26 to 29 in our country, will be postponed," it said in a statement.
"This decision was taken by the French and British governments, after a telephone exchange between the President of the Republic and the King this morning, in order to be able to welcome His Majesty King Charles III under conditions which correspond to our relationship of friendship. This state visit will be rescheduled as soon as possible."
Must Read Stories
Paramount Remake Set As Possible Robert Downey Jr. Star Vehicle; Steven Knight Scripting
'John Wick: Chapter 4': Previews Heading To Franchise Record $8M
After CEO's House Testimony Today, Lawmakers Say Momentum Growing To Ban The App
The CW Hit By New Round Of Layoffs In Marketing, Promotions & Finance
Read More About:
Source: Read Full Article