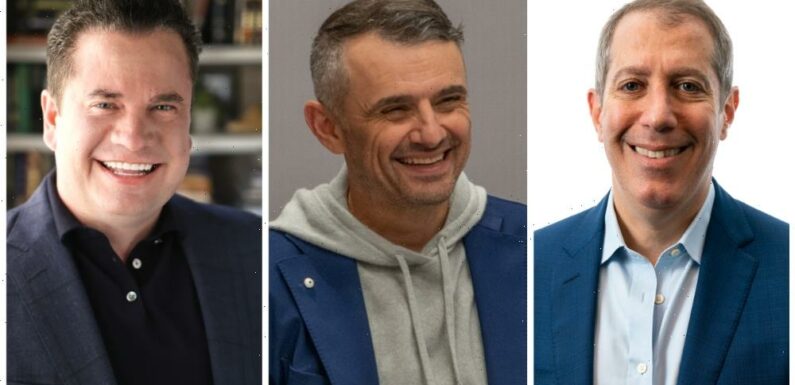 EXCLUSIVE: Gary Vaynerchuk, internet marketing expert and Resy founder, has teamed with former CAA agent and Wheelhouse exec Eric Wattenberg and Matt Higgins, who co-founded investment firm RSE Ventures with Miami Dolphins owner Stephen M. Ross, to launch a new production studio.
The trio are launching VaynerWatt.
The company will produce original long and short-form content for linear networks and streaming services.
It marks the first TV production company for Vaynerchuk, the founder of communications company VaynerX, who is best known for his work in digital marketing.
Related Story
CAA's Co-Head of Alternative Television Eric Wattenberg To Join Brent Montgomery's Wheelhouse Group As Chief Content Officer
Wattenberg, who will be CEO of the new company, joins from Wheelhouse, the company set up by Brent Montgomery, where he was Chief Content Officer. Prior to joining Wheelhouse, he was Co-Head of Alternative Television at CAA, where he represented talents including Kelly Ripa, Andy Cohen, Nick Cannon and Billy Porter. It was via CAA that Wattenberg and Vaynerchuk met.
Higgins, who appeared on two seasons of ABC's Shark Tank, is CEO of private investment firm RSE Ventures, which he co-founded with Miami Dolphins owner Stephen M. Ross. It has investments in companies including Magnolia Bakery and Momofuku.
Vaynerchuk, an angel investor who has backed companies including Facebook, Twitter, Venmo, Snapchat, Coinbase and Uber, told Deadline that the company had been a "decade in the making".
"This is a sector I've been wanting to get into at some point before I hang up my cleats in entrepreneur-land. Eric and I have a very shared vision of creativity – quality over everything," he said.
He added that he hopes to be able to bring his marketing savvy to networks and streamers. "When you sell a show to a distributor you don't just go to sleep but you actually become activated and you actually care about the outcome. I haven't for a long [time] not seen production companies with the capability of actually creating demand for the content they sell and I think that is an innovation that has a chance to really disrupt the marketplace," he added. "There is nobody in Hollywood production company land that understands how to make TikTok creative to drive tune in on a streaming service. That does not exist. Now VaynerWatt exists and I think that is exciting."
Vaynerchuk got his start in wine, having taken charge of his father's liquor store before launching YouTube series Wine Library TV. He joked that he's going to try and "stay in his lane" but added "I would be really sad if me and Eric didn't produce a meaningful business show. would be lying to you if we didn't pull this off in our careers, that would be a missed opportunity".
He added that in terms of trends, a series featuring trend du jour mocktails might be better than wine. "One can make a show about wine or one can make a show about mocktails as they are exploding in culture. I have a funny feeling that the mocktails show is going to do better because it's on trend and some of that consumer insight capability that we have at VaynerMedia will be an advantage for VaynerWatt," he said.
Wattenberg is putting together his executive leadership team, which will be based both in LA and New York.
"Our mission, simply put, is to make exceptional content that can be used effectively as marketing tools that would eventually create outsized returns on investments for creators and all of our partners ," Wattenberg said. "I am thrilled to witness this partnership come to fruition, and we are here to unlock potential for brands and content creators through an alternate and modern approach."
"Eric has a tremendous track record of identifying undiscovered talent, shaping the seed of an idea into a workable concept, figuring out the right home, and then delivering a show on time and on budget, " added Matt Higgins. "Eric's deep relationships in the industry span decades. The confidence he inspires in everyone he works with will form the foundation of VaynerWatt. Partnering makes infinite sense, as Gary provides a bottomless well of minable content – either through our jointly owned firm, VaynerMedia, and the brands we represent or the trends Gary spots years before they go mainstream."
Must Read Stories
First Monthly Hike Since Launch Vaults It Ahead Of Netflix In Streaming Price Ranks
Says Revenue Will Hit $3.2B In First Look At Production Giant's Earnings
'The Flash' Star Cuts Plea Deal Ahead Of Vermont Burglary Hearing
Breaking Baz: On 'Spare' & The Toxic Relationship Between Fleet Street & Buckingham Palace
Read More About:
Source: Read Full Article