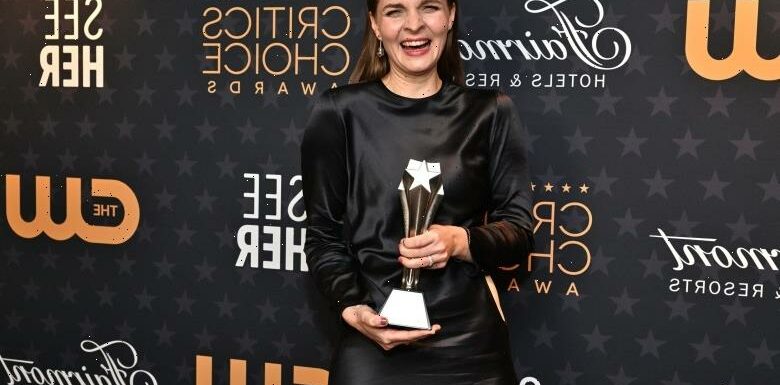 The following contains spoilers for the endings of "Tár" and "Women Talking"
Few film endings this year were as funny or as ambiguous as the ending to Todd Field's "Tár," which saw the titular character (played by Cate Blanchett), "canceled" following revelations of improper relationships with younger women, working as a conductor for live performances of the "Monster Hunter" video game score. The unexpected ending is laugh-inducing, but since the film premiered to acclaim at the Venice International Film Festival, critics and fans have debated how the audience is supposed to interpret Tár's final fate: as a final humiliation for her, a hint toward an eventual career resurrection for a monster, or a bittersweet happy ending showing she will always have music in her life.
Hildur Guðnadóttir, the composer behind the original compositions of Lydia Tár, leans into the latter camp. While at the Critics Choice Awards on Sunday, where she picked up the prize for best score, Guðnadóttir spoke to IndieWire about the film, and compared it to her other nominated work, "Women Talking." Discussing the endings of the films, which both focus on themes of sexual misconduct and violence, Guðnadóttir said that both have opposite trajectories, with "Women Talking" more triumphant and "Tár" more of a descent, but said the ending of the latter film made her feel sympathy and happiness for the complicated title character.
"It goes in completely opposite directions, 'Women Talking' is the rise and 'Tár' is the fall," Guðnadóttir told IndieWire social media editor Veronica Flores on the red carpet. "But at the same time, at the end of 'Tár,' I was happy for her, that she gets to be, maybe, more true to herself. Because she's a person that really loses her way. And in a way, even though she falls down from the pedestal, I think she maybe has a sense of finding her true self again, which is pretty positive."
"Women Talking," from Canadian director Sarah Polley, stars Rooney Mara, Claire Foy, Jessie Buckley, and Judith Ivey as an ensemble of women in an isolated Mennonite community debating whether to leave and stay after men from the village drugged and raped female members of the colony for years. Speaking about scoring that film, Guðnadóttir said her favorite part of working on the score was developing the piece used for the ending, where the women all successfully flee the community for a new life.
"I was actually in tears myself when I watched my first cut of this because I was so happy for these women to get the hell out. I think that's the first time I've ever done that, and I probably shouldn't even be acknowledging this in public," Guðnadóttir said. "Throughout this project I've felt really emotional on the behalf of these women, and I was really moved by that moment, for them."
Source: Read Full Article