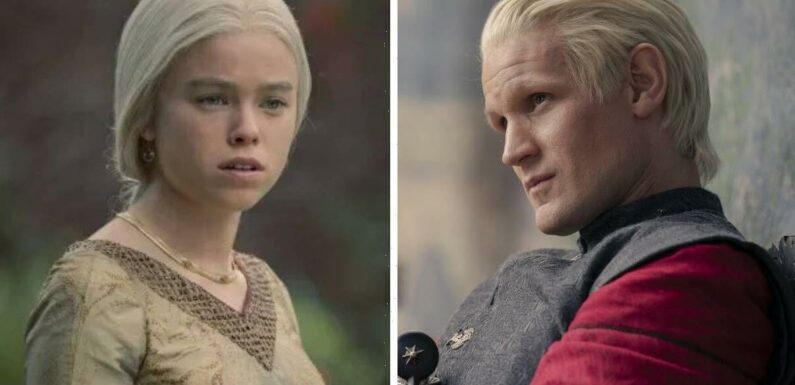 House of the Dragon: HBO teaser for episode five
We use your sign-up to provide content in ways you've consented to and to improve our understanding of you. This may include adverts from us and 3rd parties based on our understanding. You can unsubscribe at any time. More info
House of the Dragon has been in the making for quite some time so when it finally made its debut last month, fans of author George RR Martin's work were overjoyed. The Game of Thrones prequel has so far been a battle between relatives as they all want to sit on the Iron Throne and will do anything to rise to power. Here's all there is to know about watching episode five of House of the Dragon.
WARNING: This article contains spoilers from House of the Dragon.
House of the Dragon airs a new instalment every Sunday night in the USA and this week will be no different.
Episode five is going to be airing on September 18 at 9pm ET in the USA on HBO.
House of the Dragon will be simulcast across the pond in the UK in the early hours of Monday morning at 2am BST on Sky Atlantic.
If you're not keen on waiting up until the early hours of the morning for the fifth instalment, then you can instead wait until Monday, September 19, at 9pm for it to be repeated on the same channel.
There is another way to catch up on House of the Dragon though if you happen to miss the latest episode.
Once an instalment comes out on HBO and Sky Atlantic, it is then released on both networks' respective streaming services in the USA and UK.
Those in the States can watch House of the Dragon on HBO's streamer HBO Max which costs $14.99 per month with the option of cancellation at any time.
Unfortunately, HBO Max isn't available yet in the UK but there is no need to worry.
House of the Dragon fans in the UK can instead watch the Game of Thrones franchise via Sky's streaming service NOW.
To subscribe, fans must sign up for the NOW Entertainment Pass which costs £9.99 per month.
The subscription payments will automatically be taken unless customers choose to cancel.
So House of the Dragon fans can catch up on the fantasy drama via HBO Max in the USA and NOW in the UK.
DON'T MISS…
Shetland fans in tears as Jimmy Perez's replacement unveiled [REACTION]
House of the Dragon's Paddy Considine helped co-star in sex scenes [CAST]
What is coupling as Rhaenyra and Daemon caught together? [EXPLAINER]
In episode four of House of the Dragon, entitled King of the Narrow Sea, fans were left disturbed as Rhaenyra (Emma D'Arcy) was intimate with her uncle Daemon (Matt Smith).
The pair travelled together incognito to a festival at King's Landing and stumbled across a pleasure house.
They themselves started to undress one another but it was unclear if they are doing so out of desire or if Daemon had an ulterior motive.
Word got out that they were "coupling" and King Viserys (Paddy Considine) was fuming.
He once again banished his brother but before he did so, Daemon asked for Rhaenyra's hand in marriage.
Viserys refused and told his daughter she is to marry the Sea Snake's son, Laenor Velaryon (John MacMillan).
He also relieved Otto Hightower of his position of Hand, convinced he is too keen for his own family to get closer to the throne.
House of the Dragon continues every Sunday on HBO in the USA and every Monday on Sky Atlantic in the UK.
Source: Read Full Article