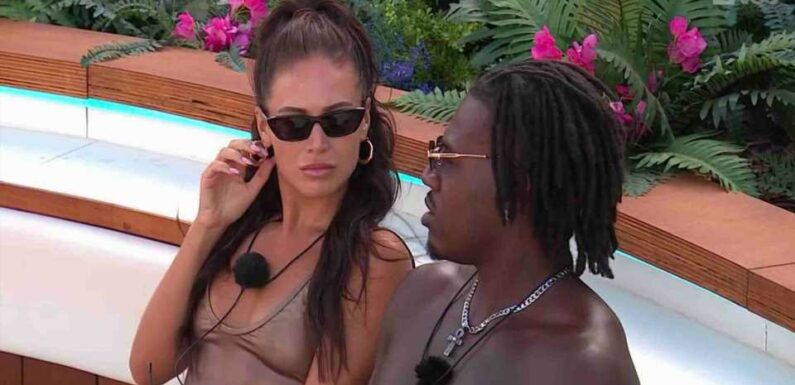 LOVE Island star Dami Hope has suggested that the conversation between Olivia and Shaq was "set up" by producers.
During the chat, airport security worker Shaq suggested that Tanyel might be "using" Jordan.
Shaq pulled Olivia Hawkins for a chat by the firepit to express his concerns over Tanyel and Jordan's romance and also to hear her opinion on the matter.
Boxing ring girl Olivia admitted that she couldn't see the chemistry between Tanyel and Jordan, while Shaq suggested that she may be "using" him.
"You said it, not me," Olivia replied. 
Former Islander Dami wasted no time in pointing out that the conversation between Shaq and Olivia looked forced.
READ MORE ON LOVE ISLAND
Carl Fogarty breaks silence on daughter Claudia's Love Island appearance
Watch the moment Love Island boys 'disappear' in weird blunder
He shared with his fans: "Deffo a whole orchestrated set up."
One follower replied: "You know better than most of us that some situations aren't as real as they seem."
The Sun has exclusively revealed how one popular female singleton has been booted out – and has already left the villa.
Yet while Love Island viewers remain in the dark about their identity, they have taken to Twitter to speculate.
Most read in Love Island
Love Island fans are worried for one girl as brutal dumping looms
Love Island final date revealed – and it's just weeks away
Love Island fans react with fury as show reveals results of heart rate challenge
Love Island shock as popular girl is booted – and she's already left the villa
Many reckon Tanyel Revan is in the danger zone after being "sabotaged" by her housemates.
Shaq suggested Tanyel's connection with Jordan wasn't real – shortly before a text arrived stating a contestant would be dumped immediately.
Fans were gutted that Tanyel could be at risk of being booted out.
One fan bluntly wrote: "If Tanyel gets dumped, this show won't be worth watching."
Another wrote: "Tanyel and Spencer barely had a day together before they dumped him to keep Kai. Then questioning Tanyel at the fire pit about Jordan. Olivia and Shaq need to stay out of people's business."
A third then wrote: "So it has to be Tanyel who gets dumped? Providing Jordan chooses Ellie."
It remains to be seen if their speculation is correct.
Previously, fans suggested Tanyel was "in love" with villa BFF Ron Hall after they spotted a "tell tale sign."
Former show star Zara Lackenby-Brown has also insisted Olivia is "bullying" Tanyel in the villa.

Source: Read Full Article