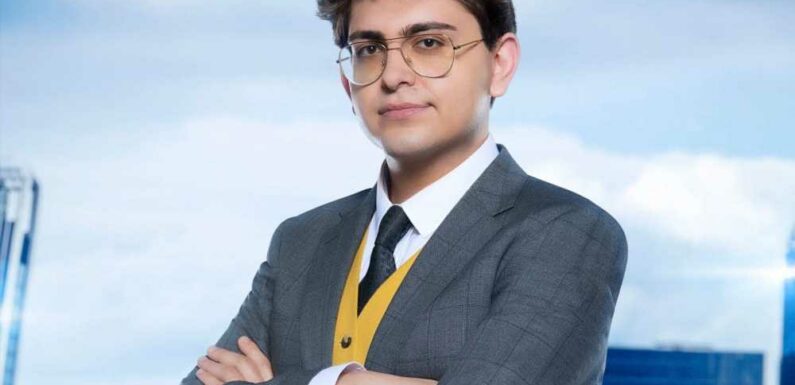 LASTING just three weeks on The Apprentice doesn't bode well for those looking to carve out a lucrative career in TV.
But Navid Sole, 28 – who was fired by Lord Sugar after failing three tasks in a row and being accused of "doing nothing" – hasn't let it stop him.
After leaving the BBC show, the self-styled "sassy pharmacist" quickly landed himself a stint on Celebs Go Dating and claims he's now even getting asked for advice by his co-stars.
It comes as a surprise for quirkily-dressed Navid, who admits he was "s***" on The Apprentice.
He tells The Sun: "It's funny really – considering I failed in the third week, I've done a lot better than the people who made it to the end."
Here, Navid reveals his difficulties on the show, including having to isolate in a "disgusting" hotel room and being made to look foolish on "unfair" tasks.
READ MORE TV STORIES
I was on Tattoo Fixers – they vowed to fix dodgy inking but made it even worse
I was the most short-lived Love Island contestant ever – trolls ruined my life
'Hotel room like I'm A Celeb jungle'
Ahead of last year's series, the budding entrepreneurs were required to self-isolate for a week in a hotel to avoid the spread of Covid-19.
During this time, Navid says all of their electronics were confiscated and they were left with little entertainment.
The reality star was so bored he constantly "walked around the room like a crazy person" until he allegedly made a grim discovery.
Navid claimed: "The hotel they put me in wasn't very nice. The TV had a damaged screen and then I found the room had rats.
Most read in Reality
What you need to know about who is on The One Show tonight
Strictly Come Dancing will make history with show first in 2023
Big Brother's Imogen Thomas looks incredible as she sips champagne in a hot tub
Find out if Channel 4's Consent is based on a true story
"I saw a rat running around and had to put towels under the hotel door because I feared that's how they were coming in.
"I struggled to sleep and had to put five pillows around me so that I could feel safe and comfortable.
"It was really disgusting. It felt more like the I'm A Celebrity jungle than a hotel room. 
"I told my chaperone but they said I couldn't be moved to a different hotel because the rest of the candidates were in the other hotels.
"When I tried to change my room, the receptionist told me they were suffering from pest infestation and nothing was done about it."
A spokesman for the show said the complaint was looked into and Navid was moved to another room.
'Restricted choices' on tasks 
On the show, candidates face strict time limits from Lord Sugar – but Navid claims there can be a whole day between learning about a task and actually starting it.
"We didn't start straight away. You do tasks the day after, instead they film walking shots and profile shoots," he said.
Apprentice fans are often baffled by odd choices made by candidates on tasks, but Navid insists it's not always their fault.
"Before filming, we are given an iPad, which gives you specific options to choose from and restricts what you can do," he said.
"For the toothbrush challenge, we had either a Disney toothbrush or an animated toothbrush and we weren't allowed to pick colours either. 
"It's down to whoever chooses the option faster and why we ended up with designs that looked like turds twice in a row.
"We were saying, can we choose red, blue or orange but then they said 'No, no, no' and the solution was green and brown. 
"Then when you come up with the name of the brand, it has to be run by the legal team to see if you can use it.
"It's a bit unfair and not as simple as it looks on TV, there's a lot going on behind the scenes."
A spokesperson from The Apprentice told The Sun: "Due to the competitive nature of the show, production have to ensure all candidates are working from a level playing field and treated fairly whilst not compromising the competition."
Lord Sugar 'fed jokes'
In the boardroom, Lord Sugar is renowned for his no-nonsense grillings and gags at the candidates' expense – but not all is as it seems.
Navid said: "Lord Sugar has all of his jokes written down on a piece of paper and he crosses them off as he goes along.
"You could see us all laughing at them but often it was a sarcastic laugh. It wasn't really that funny and was a bit cringe-worthy." 
Pre-filmed exit
After being fired, the unlucky candidate exits the building and heads to a black cab – Navid says that's filmed weeks earlier.
He said: "Those scenes are filmed before you start the process and you are told you have to act it out and pretend to look miserable, upset or pissed off. 
"This also means you always need to wear the same jacket and scarf in the boardroom so there is continuity for the exit shot."
'Co-star feud'
Navid said he had "heated arguments", which were not aired, with the candidates and claims he was "bullied" on the show.
He also alleges co-stars cast snubbed him at an event by refusing to let him sit with them.
"There was a table for The Apprentice stars but when I walked over they literally covered their chairs so that I couldn't sit," Navid said.
"I was like an outsider, it felt like they didn't like me and I was embarrassed when I had to walk to a different table.
"I felt hurt and left out, it was a mean thing to do. Now they ask for my help."
Navid says he's having the last laugh because the candidates "DM me asking for advice".
He said: "I don't speak with any of the candidates, they are not my friends, but they try to ask me for advice on getting other shows, collaborations and PR tips.
"Without wanting to sound arrogant, I've done way better not winning the show. I was paid a good amount for Celebs Go Dating and it feels like I'm proving the others wrong."  
A show spokesperson told us: "The Apprentice has thorough and robust duty of care protocols in place including an experienced network of support for candidates.
Read More on The Sun
Major change to benefits from today and thousands can get up to £10,000
I'm a taxi driver who handed back £570 I found in car – but reward blew my mind
"There is always somebody on hand to deal with any concerns including five members of the production team who live in the house.  
"The Apprentice has a strict code of conduct, we take all complaints very seriously and investigate when needed. As a result, when action is required, we take it." 

Source: Read Full Article