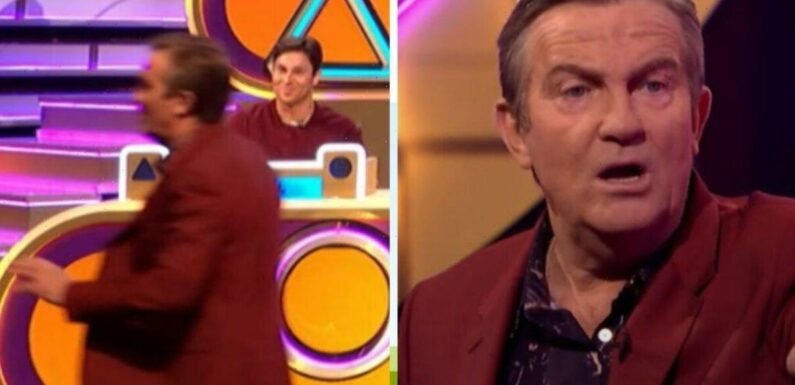 Blankety Blank: Bradley Walsh walks off the set
We use your sign-up to provide content in ways you've consented to and to improve our understanding of you. This may include adverts from us and 3rd parties based on our understanding. You can unsubscribe at any time. More info
Bradley Walsh was back on Saturday night to host the new series of Blankety Blank. The BBC presenter welcomed a new batch of celebrities to the show, who tried to fill in the missing blanks. Competing against each other were, Ellie Simmonds, Denise Van Outen, Chris Eubank, Frank Skinner, Vick Hope and Joey Essex.
However, it all got a bit too much for Bradley during one round, when Chris seemed to get confused over the rules of the game.
The Chase presenter asked the celebrities to fill in the blank for this question, "My wife calls me puppy dog because whenever I get excited I…."
Although, Strictly star Ellie seemed to misunderstand the premise of the sentence, as she asked the host for a hint.
Bradley appeared to grow frustrated a the celebrities kept asking him to repeat the question.
READ MORE: 'Give the money back!' Prince Harry urged to scrap 'damaging' book
Meryl seemed to think the correct answer was, "Smile." However, her fellow contestants didn't agree.
Ellie said, "jump", while Frank wrote down, "urinate".
"Show her affection on her leg," Vick answered as Frank joked: "I don't think there is any affection in that."
Joey wasn't unsure what to write, and so he said: "Blank."
"Do you know what I am saying?" Joey asked as a confused Bradley replied: "Sort of, yeah."
"Is there an answer which is exact?" Chris went on to ask, which is what prompted Bradley to walk off.
"Let me explain something to you," the host explained. "My wife who is actually my wife never calls me puppy dog ever.
"The list I just read out is made up for the show called Blankety Blank."
"There is no official answer?" Chris asked which is when Bradley seemed to have enough.
The host walked off the set telling the celebrities: "I am off, I am off!"
"I mean come on!" Bradley added as he strolled back onto the set.
Viewers were loving to see Bradley back on their screens, and many took to social media to share their thoughts.
Stevie praised: "Bradley Walsh is certainly is perfect for the show. He's so entertaining and funny. He brings it all together. Well done Bradley. #blanketyblank."
Monica said: "You'd have to love Blankety Blank! #blanketyblank."
While Ross Quinn added: "wow that episode was pure chaos… Eubank expecting cheers for no idea what and Joey Essex somehow still getting TV work…"
"Just seen #BlanketyBlank from last night, a fun show, a great mix of celebrities and contestants. Some funny moments," Daniel Brown tweeted.
Blankety Blank returns on Saturday at 8.45pm on BBC One.
Source: Read Full Article