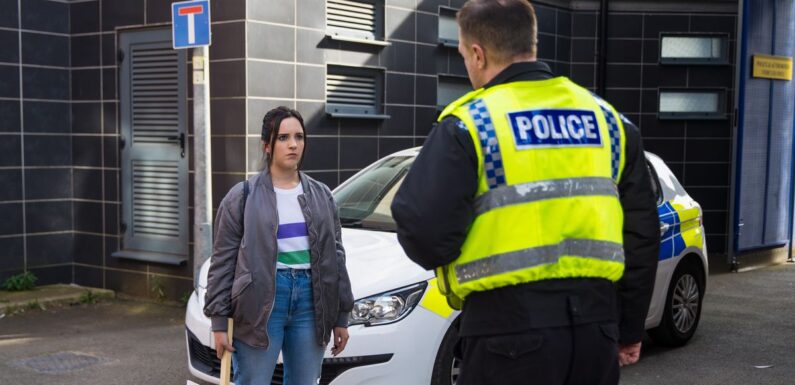 There's a lot in store for Amy Barlow (Elle Mulvaney) in Coronation Street spoilers as she seeks justice for her sexual assault and spiking.
Amy intends to attend an anti-spiking march to raise awareness after she was drugged at a nightclub, and in another incident, raped by her ex-boyfriend Aaron Sanford (James Craven). But as she sets off with Summer Spellman (Harriet Bibby), Evelyn Plummer (Maureen Lipman) and Cassie Plummer (Claire Sweeney), Mason Radcliffe (Luca Toolan) harasses her.
Amy loses it and goes to hit Mason with her placard for the march just as a police officer walks by and orders her to put it down. Summer watches on as Amy argues with the officer before graffitiing the police car, resulting in Amy being arrested for criminal damage.
When Amy returns home, she lies to Steve McDonald (Simon Gregson) and Tracy Barlow (Kate Ford), making out the march went well and nothing out of the ordinary happened.
The following night, Amy heads to a nightclub where she stops a woman from being spiked. But rather than leaving after her good deed, she goes and flirts with the spiker – what is Amy up to?
Meanwhile, Asha Alahan (Tasha Gorey) arranges to meet her work friend, Isla, but Nina Lucas (Mollie Gallagher) reminds her that they are supposed to be spending the day together.
Later, Asha and Nina enjoy drinks together when Asha spots Courtney Vance (Stephanie Davis) with Darren Vance (Ryan Early) and Asha accuses Courtney of cheating on Aadi Alahan (Adam Hussain).
When Nina explains that Aadi and Courtney split weeks ago, Asha rages that her brother kept the break-up a secret from her.
On the day of Asha and Isla's lunch, Asha invites Nina along too. As Nina arrives, she's thrown to see Asha dressed to the nines and as Asha and Isla chat about work, Nina feels side-lined.
Meanwhile, Bernie Winter (Jane Hazlegrove) breaks the news to Paul Foreman (Peter Ash) and Gemma Winter-Brown (Dolly-Rose Campbell) that she's in trouble for handling stolen goods.
In court, Joel Deering (Calum Lill) persuades Bernie to plead guilty but the judge goes down hard on her. Devastated after his diagnosis, Paul begs the judge to reconsider, telling her about his condition and how he needs his mum.
Elsewhere, Audrey Roberts (Sue Nicholls) tells David Platt (Jack P. Shepherd) and Maria Connor (Samia Longchambon) that she's selling the barbers so she can afford to buy back her house. In the meantime, she'll be returning to work in the salon, meaning one of them will have to go!
As David and Maria try to talk Audrey round, she orders them out of the salon and locks the door.
Under pressure from Mason at school, Dylan Wilson (Liam McCheyne) sells vape to students. When Hope Stape (Isabella Flanagan) tries to buy one, Dylan points out she's only 12 – but Mason orders him to sell one anyway.
As Dylan arrives home, he's confronted by Sean Tully (Antony Cotton) who's found out what he's been up to from Hope – and Dylan is in a lot of trouble.
Source: Read Full Article