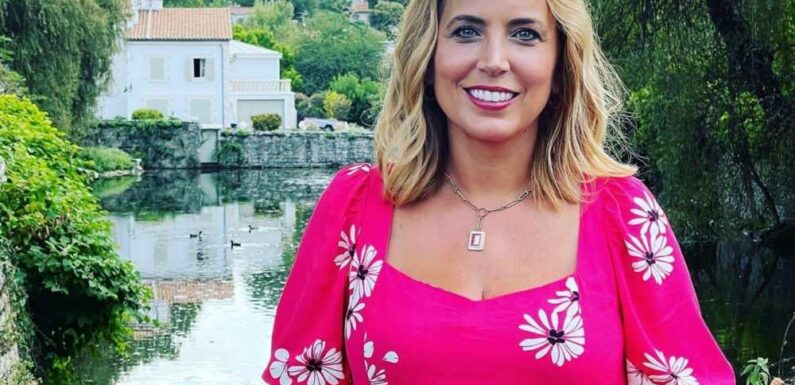 A PLACE in the Sun presenter, Jasmine Harman, has sparked a flurry of comments among her following after she posted a behind-the-scenes picture from filming the hit show.
The property expert, 47, led fans into a false sense of security as she initially shared a glamorous picture of her in a hot pink dress, full make-up and a wide smile as she posed by a river in the Charente region of France.
In the following frame, which showed a much wider field of vision for the camera lens, there were a series of large bins looking anything but glamourous. 
Jasmine was laughing as she filmed a piece of camera for the property show and captioned the pictures with: "Today at 3pm, we have a classic episode of A Place in the Sun in France with Sarah & Greg. I couldn't resist sharing these photos again – the magic of television! LOL! Swipe to see behind the scene."
Fans were quick to complain, one said: "Why are you filming between two rubbish bins?" Another added: "Looks nice then you see the bins." 
While one quipped: "I hope those bins didn't stink too much." Another said: "Looking beautiful amongst the skips, you could have picked a better location."
But it wasn't all bad news, lots of Jasmine's followers saw the funny side, one made a pun: "Where you bin?" Another fan wrote: "Bin there done that!"
She had previously shared the picture with her 130,000 followers but wanted to share the joke again.
Her fans were appreciative of her wanting to make them laugh, one said: "I remember this from the first time you posted it. It made me smile."
Jasmine's sunny disposition was tested on an episode of A Place in the Sun that aired yesterday where self professed 'fussy' couple Sarah and Greg had high demands.
After failing to impress with the three properties she showed them, Laura hit the jackpot with the fourth house – which reduced Sarah to tears of joy – before the couple put in a successful offer.
Read More on Jasmine Harman
A Place in the Sun couple break down as Jasmine Harman reveals final property
Jasmine Harman fans moved as A Place in the Sun star posts emotional tribute
A Place in the Sun is available to stream on All 4. 
Source: Read Full Article