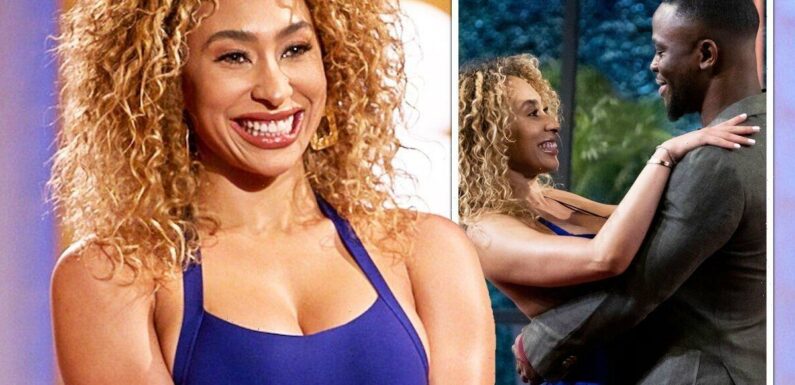 Love Is Blind: Season three official trailer
We use your sign-up to provide content in ways you've consented to and to improve our understanding of you. This may include adverts from us and 3rd parties based on our understanding. You can unsubscribe at any time. More info
The latest season of Love Is Blind has caused plenty of arguments among the show's millions of fans who tuned in from around the world for more drama and romance. Now Netflix has released the final part of season three this week, fans can finally find out the outcome of Raven Ross and SK Alagbada's whirlwind romance after an ultimatum threatened to drive them apart.
Raven has hit back at critical Love Is Blind fans who were stunned when she asked SK to pay half of her rent, despite them not living together.
Throughout the series, their romance hit a number of hurdles thanks to their different lifestyles and approach to their relationship.
She went on to provoke a serious debate among some of the show's viewers when she asked SK to cover half her rent for her apartment in Dallas.
She explained her lifestyle can be expensive, but didn't want to move with him to California as her current home was very convenient for her job.
"If we're getting married, I think that even if you're not living in Dallas, we should both be paying the rent of where I'm living," she told SK. "I think that is fair."
After receiving plenty of backlash from Love Is Blind viewers, Raven has ignited the row once more with her latest videos on TikTok.
In one clip, she dances in the mirror to the lyrics 'I'm coming back to you, baby' from Carly Rae Jepsen's The Loneliest Time.
The caption of her reads: "Me to my independence after a man pays my bills."
@pilatesbodyraven Guilty as charged ☠️ #loveisblind ♬ The Loneliest Time – Carly Rae Jepsen & Rufus Wainwright
In another, she replied "Why y'all always hatin?!?" over dialogue from someone questioning her independence.
The voiceover says, "Man, females like you are so lame. Like you're no fun, you're a fuddy-duddy."
With new episodes of Love Is Blind out this week, Raven's latest posts have caused even more fans to question whether she was in the right to demand rent money from her potential spouse.
On her TikTok video, Jessica Sheffield asked: "So if SK has to pay half of your rent when he's not living there, do you pay half of his bills when you're not living with him?"
DON'T MISS:
Below Deck Adventure fans demand firing after spin-off premiere [LATEST]
The Handmaid's Tale fans tip Hannah's escape after revelation [THEORY]
Fate: The Winx Saga stars 'heartbroken' after cancellation [REACTION]
And @emmapynn argued: "Girl bffr. You're not independent if someone else is paying your bills!"
However, Lama Ab agreed with Raven's view, adding: "We can be independent and have our man pay our bills .. they'll never understand if they ain't us."
And Rey said: "Like, I think at this point the bitter comments want their bills paid too and they're salty you got there first AND famously lol."
Over on Twitter, @sway_briggs argued: "Raven not being able to compromise but also requiring SK to pay half of the rent to a place he won't be staying at is crazy."
"He is going to school to be a doctor. Stay down so y'all can come up together."
@onyinyeluv_ tweeted: "Raven is tripping if she expects SK to pay rent for HER apartment when he's in school and not working."
Ultimately, when it came time for the pair to head to the altar, SK decided against marrying his Love Is Blind match, even though Raven revealed she had been ready to say "I do".
Love Is Blind season 3 is available to stream on Netflix.
Source: Read Full Article