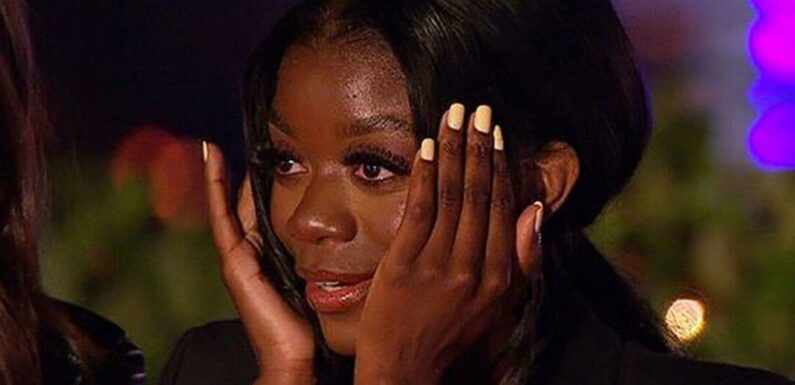 Love Island: Will and Tom's antics revealed in movie night
We use your sign-up to provide content in ways you've consented to and to improve our understanding of you. This may include adverts from us and 3rd parties based on our understanding. You can unsubscribe at any time. More info
Love Island viewers took to Twitter in their droves on Thursday night to accuse Tanya Manhenga of "stirring the pot" between Jessie and Will. The drama ramped up as the second part of Movie Night got underway revealing exactly what the Islanders got up to while taking part in Casa Amor. With clips of their antics being broadcast, several indiscretions were soon made public including Will Young's flirty banter with Layla Al-Momani despite being coupled up with Jessie Wynter.
In one of the clips, the pair could be seen in bed together, with Layla's hand tucked away under the covers, as Will described the situation as feeling quite "naughty."
Despite his insistence that nothing else happened, Tanya suggested Layla may have been getting more than a little intimate with Will beneath the covers.
This led the boys to call her out for "stirring the pot" as Will appeared devastated by the insinuation as he quickly denied any claims anything untoward had happened.
Fans at home were also quick to call Tanya out for her comments, particularly as she had been far from a saint during her time away during Casa Amor.
Twitter user @dojasalone wrote: "Tanya told Shaq that he needs to mind his business in the beginning now here she is stirring the pot between Will and Jessie #loveisland."
@Stephen_Boylan_ agreed writing: "Tanya stirring the pot to get the attention away from her #LoveIsland."
"Look at Tanya stirring the pot instead of facing the front #loveisland," said @ShanolGray.
Meanwhile, @JaayCarmichael commented: "Tanya stirring the pot then staying completely silent when erupts (sic) is killing me #LoveIsland."
Several other fans of the show were not as reserved as user @KellyGamble__ questioned: "Is it just me who thinks Tanya is a bit of a narcissist and a gas lighter (sic) #loveisland #LoveIslandUK."
"Tanya is scary she's gaslighting everyone in this villa #loveisland," commented @Cartersvisions.
Twitter user @EmilyCh07623842 even called on producers to intervene saying: "@LoveIsland you should really step in in (sic) regards to Tanya's gaslighting.
"If it was the other way round she'd be outa (sic)there. Look after Shaq's mental health. #loveisland #LoveIslandUK."
DON'T MISS:
Kate Garraway addresses 'obsession' which 'infuriates' GMB co-star [INSIGHT]
Emmerdale exit for Cathy as fans 'work out' real health diagnosis [SPOLIER]
Love Island contestants shut away as filming thrown into chaos [INSIGHT]
After the footage was shown, Will took Jessie to one side to apologise for his behaviour before "leaving the ball in her court" to decide whether to pursue a relationship.
In response, Jessie admitted the revelations had been "frustrating" and left her feeling "numb", before admitting she "wanted to work through this" and see whether their blossoming romance could be saved.
Farmer Will and fitness instructor Jessie are currently the bookie's favourites to win this season's winter Love Island.
They are closely followed by Ron Hall and Lana Jenkins, and Samie Eleshi and Tom Clare.
The show was thrown into chaos earlier this week as torrential rain ground filming to a halt and forced producers to issue the islanders with strict instructions to stay indoors.
This is the second time the weather has threw a spanner in the works for the team.
At the start of the series host Maya Jama's grand entrance was slightly hampered by gale force winds which blew through the residence and threatened the continuation of filming at the time.
This season is being filmed in South Africa, which has been hit by widespread flooding that has affected seven of the country's nine provinces.
Love Island continues nightly on ITV2 and ITV x at 9pm.
Source: Read Full Article