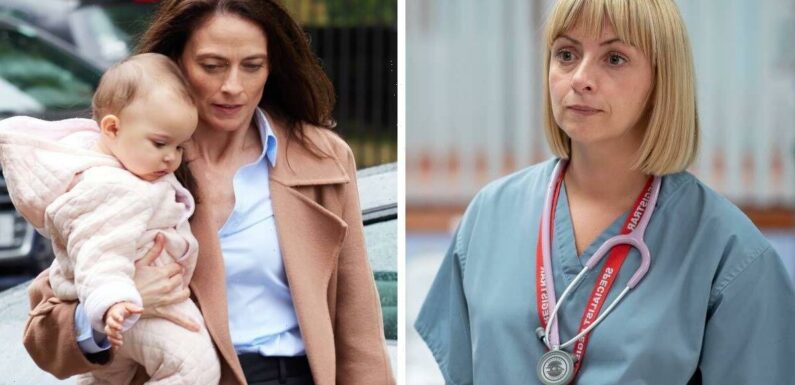 Maternal: Lara Pulver stars in trailer for ITV series
We use your sign-up to provide content in ways you've consented to and to improve our understanding of you. This may include adverts from us and 3rd parties based on our understanding. You can unsubscribe at any time. More info
Maternal is the latest ITV drama to hit the small screen in 2023, following the success of A Murder in the Family, Vera and Stonehouse. The wait is almost over for the limited series to begin which features a star-studded cast. Express.co.uk has everything there is to know about Maternal.
WARNING: This article contains spoilers from Maternal.
How many episodes are in Maternal on ITV?
Maternal premieres on Monday, January 16, at 9pm on ITV and will consist of six episodes in total.
The drama will air a new episode every Monday night in the same timeslot.
As long as there are no scheduling delays, the sixth and final episode of Maternal is going to be out on Monday, February 20, on ITV.
If you do happen to miss any of the upcoming episodes, there is no need to worry.
After the first episode has aired on ITV1, the entire boxset of Maternal is going to be ready to watch on its streaming service ITVX.
So fans won't have to wait every Monday for a new episode and instead, binge-watch whenever they choose to.
ITVX used to be known as ITV Hub before the service was relaunched with more shows first being released on there before the main channel, like Damian Lewis' A Spy Among Friends.
The platform is completely free and simply requires a registered email address to gain access to its library of content.
Maternal sees three female doctors return to work at City General Hospital post-pandemic after maternity leave, balancing lives as new mums as well as working in the NHS.
Pediatrician Maryam (played by Parminder Nagra) has two children under two and is anxious about returning to work.
Meanwhile, surgeon Catherine (Lara Palver) is a single mum who had an unexpected pregnancy and is now determined to get a promotion.
Acute Medicine doctor Helen (Lisa McGrillis) has three children but is having marital problems after her husband had an affair with a 24-year-old colleague.
To make matters worse, Helen works with her consultant husband on the ward.
DON'T MISS…
Meet the cast of ITV's new drama Maternal [CAST]
Maternal creator on 'really hard' experience which inspired series [EXPLAINER]
Vera fans distracted by Holby City star's appearance  [REACTION]
Portraying Maryam is actress Parminder Nagra who is probably best known for starring in ER for six years as Dr Neela Rasgotra.
Meanwhile, actress Lara Pulver featured in BBC drama Sherlock as well as spy series Spooks, where she met her future husband and Maternal co-star Raza Jaffrey.
Behind Helen is actress Lisa McGrillis who fans may recognise as Kelly in the comedy Mum, which she starred alongside Lesley Manville.
Other cast members include Oliver Chris, Abhin Galeya and Susan Fisher.
Talking about Maternal, creator Jacqui Honess-Martin said: "I am thrilled to bring this funny, warm and quietly political story to ITV.
"It's been humbling to have the opportunity to hear the stories of so many brave and brilliant female doctors working in the NHS over the past two years and I know the incredible team working on this show will do them proud."
ITV head of drama Polly Hill added: "Jacqui's scripts are brilliant, and they perfectly capture how difficult it can be for women juggling family life, whilst under pressure at work, making critical life or death decisions.
"It's hard to believe this is her first television drama.
"I'm thrilled Parminder, Lara and Lisa will lead our cast and to be working with Patrick Spence and James Griffiths on what promises to be a modern and engaging medical drama."
Maternal premieres on Monday, January 16, at 9pm on ITV.
Source: Read Full Article