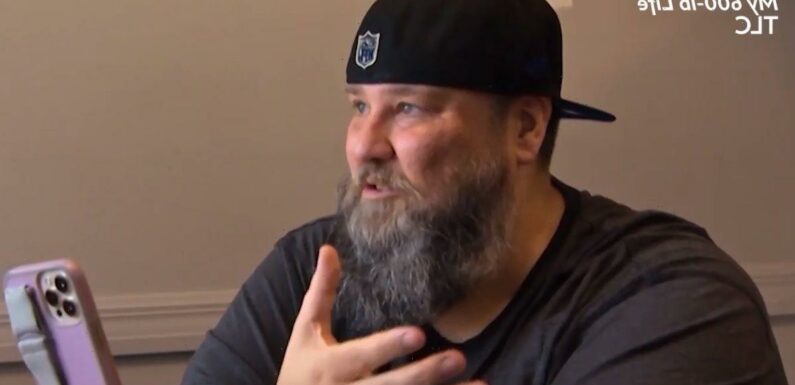 My 600-lb Life: Trailer for TLC reality series
We use your sign-up to provide content in ways you've consented to and to improve our understanding of you. This may include adverts from us and 3rd parties based on our understanding. You can unsubscribe at any time. More info
TLC's hit reality show, My 600-lb Life, follows the weight loss journeys of hopeful individuals who want to change their lives for the better. One star, Mark Rutland, has amazed fans in a recent episode after naturally losing 160lbs. Despite this his doctor still urged Rutland to undergo weight loss surgery.
When Rutland first appeared on the show he weighed 715 pounds and said completing day-to-day tasks felt like "torture" because of his weight.
The star also told People Magazine: "When you get to be this size you're definitely broken mentally.
"I know I'm fat and I have the ability to change, but I can't stop eating because when I'm eating it's the only time I get relief from the physical pain. It's the only time I'm happy."
After making some lifestyle changes, the reality star did prove he had the ability to change after he lost an eye-watering 160lbs naturally.
In last week's episode of TLC's hit reality show, Rutland was seen speaking with his parents about his recent weight loss achievement.
He said: "Everything's been going good, I've been working with the trainer at the gym. I've been losing weight, he's happy with the progress I've been making.
"But with all that being said… I'm not gonna do the surgery. Hopefully not ever."
In an attempt to remind him about how important his decision is to go against the surgery, his mum suggested he should talk to his sister April, who's a nurse.
The star proceeded to call April, who quickly disagreed with his thinking, calling bariatric surgery a once-in-a-lifetime opportunity.
In response to his sister's claims Rutland admitted :"Yeah, I get it. I got the greatest weight loss doctor in the entire world and all you guys want me to do it. It's not an easy decision for me not to do this."
His dad then pointed out he's only lost 160lbs so far and still has a long way to go before he reaches a healthy weight.
Despite his weight loss success Doctor Nowzaradan still advised Rutland to go ahead with weight loss surgery when they discussed his future.
The doctor exclaimed: "I don't want to hear that. You still have 300 lbs to lose."
Rutland interrupted saying: "It's like yeah, I don't care. You work hard, you do everything you can and then the number on the scale, that's gonna take care of itself."
"I have no intention of going backwards," he added, before his sister reminded him he was not going to get such an opportunity again.
"I know, but I'm gonna get the opportunity to see what I'm made of right now and that's more valuable." he claimed.
The star opted to continue his journey more naturally as he believes, despite Nowzaradan's medical advice, that he can stay committed and lose 500 lbs with no medical help.
In 2017 Dr Nowzaradan spoke to People about consulting her patients she explained: "It's a daily challenge to work with some patients that can be self-destructive.
"My job is not to get aggravated, but to find a way to motivate them to work hard to get to their goals. There are times where I think it's necessary for some tough love and I have to be stern with them, so I show some of my concern and frustration."
Other My 600-lb Life stars have gone down the road of surgery like star Christina Phillips, who impressively shrank from 700 pounds to just 183 in season two of the show.
My 600-lb Life season 11 continues Wednesdays on TLC in the USA. A UK release date is yet to be announced.
Source: Read Full Article