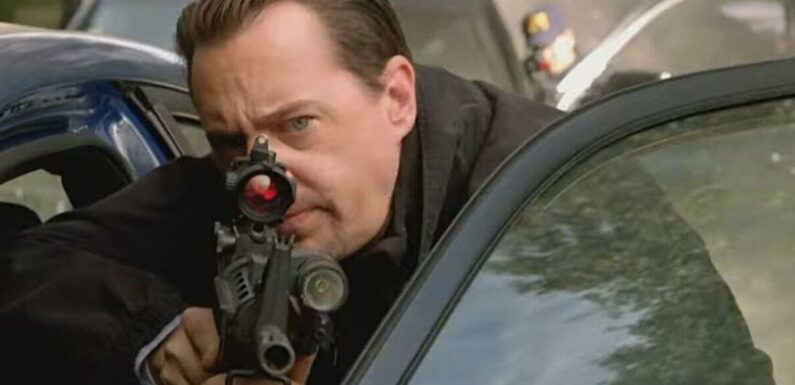 NCIS Season 20 Episode 17 Promo
We use your sign-up to provide content in ways you've consented to and to improve our understanding of you. This may include adverts from us and 3rd parties based on our understanding. You can unsubscribe at any time. More info
CBS' long-running procedural drama NCIS will make a huge return to screens with another thrilling episode. This time viewers could be forced to say goodbye to the team of agents as they find themselves in the line of fire during episode 17.
Although NCIS is drawing closer to its season 20 finale, the drama has continued to intensify.
The promo for the episode, titled Stranger in a Strange Land, revealed the agents will find themselves in a lot of trouble.
The team were called to a crime scene after which Jessica Knight (Katrina Law) noted: "That's a lot of blood."
As Jimmy Palmer (Brian Dietzen) examined the corpse, he revealed: "The murder weapon was a tearing knife."
This was a major clue for FBI senior agent Alden Parker (Gary Cole) who discovered: "There is partial press for nationalist militia connected to eight crime-related homicides."
The promo then cut straight to the action with the team in a face-off, with their guns drawn.
As Alden, Knight, Nick Torres (Wilmer Valderrama) and Timothy McGee (Sean Murray) ducked behind their vehicles, the leader issued a stern warning.
Alden shouted: "You're surrounded there's no way out."
However, their opposition didn't back down, instead, they upheld their position and kept their guns pointed towards the NCIS agents.
The team are tasked with investigating crimes of drug trafficking, smuggling, homicide or terrorism concerning or involving members of the United States Marine Corps, the United States Navy or their families.
With national militia involved, the brave agents will have to work tirelessly to ensure they make it out alive.
CBS also released a synopsis which provided further insight into episode 17.
It read: "NCIS works to solve the murder of a Marine private who appears to have been killed for helping an Afghan refugee.
"Also, Jimmy navigates the pressure of parenting his teenage daughter, who is eager to go out on an unchaperoned group date."
This case could be tied to Senator Constance Miller (Brigid Brannagh) who seemed to have close connections to Russian operatives or sleeper cell agents.
As the case unfolds it's likely the agents will find themselves in more dangerous situations where they could be hunted.
The upcoming episode will also mark the return of Jimmy's daughter Victoria Palmer (Elle Graper) who was last seen in season 19.
Although his new parenting hurdle was not shown in the promo clip, Jimmy will likely consult advice from his trusted colleagues.
As well as his girlfriend Katrina, he may also seek advice from Torres. They were trusted to care for Victoria after Jimmy was forced to quarantine when he came into contact with a deadly infection.
This will be the latest parental challenge Jimmy will have to face following the season 18 death of his wife Breena Palmer (Michelle Pierce).
NCIS season 20 continues Mondays on CBS in the USA and the following Wednesday on Disney+ in the UK.
Source: Read Full Article