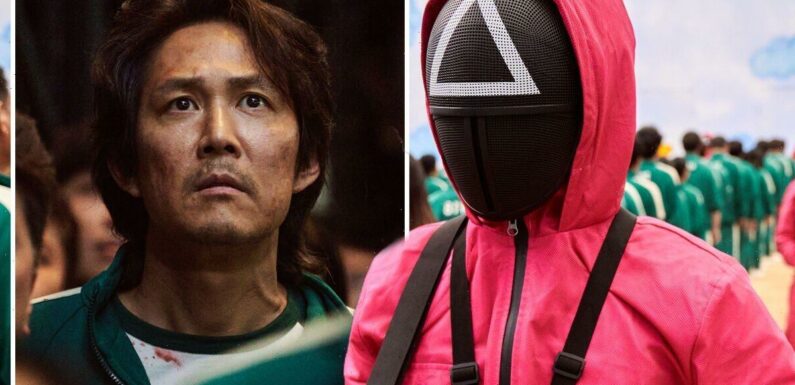 Squid Game: Jung-jae Lee stars in trailer for Netflix series
We use your sign-up to provide content in ways you've consented to and to improve our understanding of you. This may include adverts from us and 3rd parties based on our understanding. You can unsubscribe at any time. More info
Netflix's global phenomenon is being given a new lease of life amid the wait for season two of the Lee Jung-jae led series. The streamer has reportedly been filming contestants take part in challenges synonymous with the South Korean drama's deadly tasks from its debut run. However, new reports have emerged to claim players have been left "stretchered off" the set as well as involved in other medical emergencies.
The new Squid Game competition series has been branded a "war zone" by players due to its high-risk and physically demanding challenges.
So much so, one exhausted player required a stretcher and others were left "in tears", they told The Sun.
The new series is reportedly offering winning contestants a staggering amount of money, believed to be a record-breaking £3.7million.
And this led to some pushing themselves to their limits while filming took place in Cardington Studios in Bedford.
Like the rest of the UK, Bedfordshire hasn't been immune to the sub-zero and frosty temperatures hitting the country this month.
"Even if hypothermia kicked in then people were willing to stay for as long as possible because a lot of money was on the line," a player told the publication.
"Too many were determined not to move so they stood there for far too long.
"There were people arriving thinking they were going to be millionaires but they left in tears."
The player went on to claim "people were getting carried out by medics but we couldn't say anything. If you talk then you're out".
However, the freezing temperatures meant that some were unable to "move their feet".
The need for medical assistance meant some players were left calling for a medic to tend to the contestants, resulting in longer filming times.
In keeping with Squid Game's format, the new competition show reportedly invited 456 players to take part.
DON'T MISS:
Bella Ramsey admits to 'cheating' during emotional Last of Us scenes
NCIS fans 'work out' Nick Torres exit twist as 'replacement' joins
Blue Bloods' Abigail Hawk leaves co-star 'crying' with sweet tribute
These came from all around the world to take part, including players from overseas from the likes of the USA and Australia.
A spokesperson for Netflix addressed the reports to The Sun, explaining: "Netflix, Studio Lambert and The Garden takes contributor care as one of its highest priorities and regular toilet breaks, water and food are categorically standard practice on production.
"All contestants were prepared by production several weeks ago that they would be playing a game in cold conditions and participated knowing this.
"All precautions were taken to ensure the game was played safely."
Express.co.uk has contacted Netflix for comment regarding the reports.
The original Squid Game became Netflix's biggest-ever hit when it debuted way back in 2021.
The series is the most-watched original on the platform in its debut week ever, seeing off the likes of Stranger Things and Wednesday.
Season two has been confirmed but Netflix is yet to announce a release date.
Squid Game season 1 is available to stream on Netflix now.
Source: Read Full Article