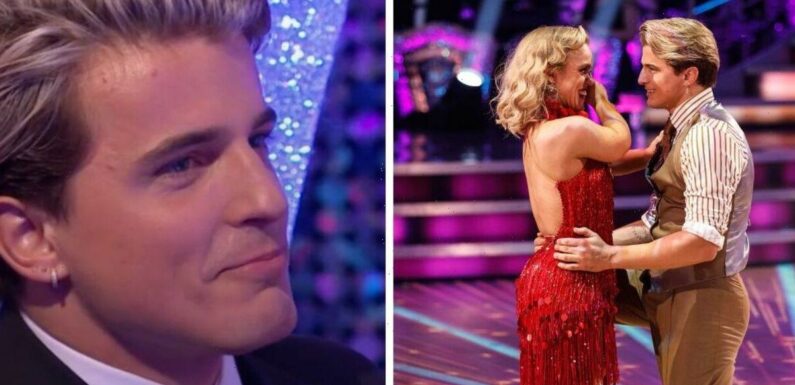 Strictly: Nikita says it's 'difficult to talk about' show exit
We use your sign-up to provide content in ways you've consented to and to improve our understanding of you. This may include adverts from us and 3rd parties based on our understanding. You can unsubscribe at any time. More info
On Sunday night's Strictly Come Dancing, Ellie Simmonds and her dance partner Nikita Kuzmin landed in the bottom two with Molly Rainford and Carlos Gu. However, Ellie and Nikita were sent packing after the judges decided to save Molly from the dance-off. It was an emotional moment for the duo as they bid farewell to their co-stars.
Speaking to Rylan Clark on Monday's Strictly – It Takes Two, professional dancer Nikita joked he was "jobless" as he discussed their exit from the show.
The dancer got emotional as he told the BBC host it was hard for him to talk about.
Referencing Ellie's sweet message to Nikita at the end of their routine, he said: "That sentence I am not going to lie, talking about it is a little bit bittersweet.
"It's a bit of heartbreak so it is difficult to talk about it.
"I remember when I heard her talk about it, 'Was it ok?', my heart melted honestly.
"We came out there and we really wanted to push so hard, we wanted to prove everybody wrong and you succeeded in that, and honestly, I am so proud of her."
Rylan went on to point out that the pair received their highest score of the series on Saturday night.
"We were so joyous," Ellie chipped in before adding: "The Charleston was quite hard."
The host joked the dance routine was the "dance of death" after a number of stars were voted off following their Charleston.
"It was horrible," Ellie continued as she spoke about landing the bottom two. "We were shocked.
"When we saw that red light was us and to see Molly as well, Molly and Carlos who are incredible."
"You don't want anyone to go home," the Paralympian added. "It's like going out with heartbreak."
Nikita joked to Rylan that he was now "jobless" after being eliminated from the show.
After seeing a clip of their highlights from the show, Ellie said: "This Strictly experience has been everything to me.
"I am heartbroken, what am I going to do now? I am not going to be with him every single day."
"Darling, I am jobless now," Nikita replied. "I am going Saturday night to clap now."
After their elimination on Sunday night, host Tess Daly spoke with Ellie and Nikita about their experience on the show.
"I've literally had the time of my life," Ellie reflected. "It's been the most incredible experience – life-changing really.
"I want to thank Nikita ever so much. I'm going to miss him – he's changed my life and confidence.
"And all of you guys – the pros. Every single one of you who've been part of this Strictly. "
Strictly – It Takes Two airs daily at 6.30pm on BBC Two.
Source: Read Full Article