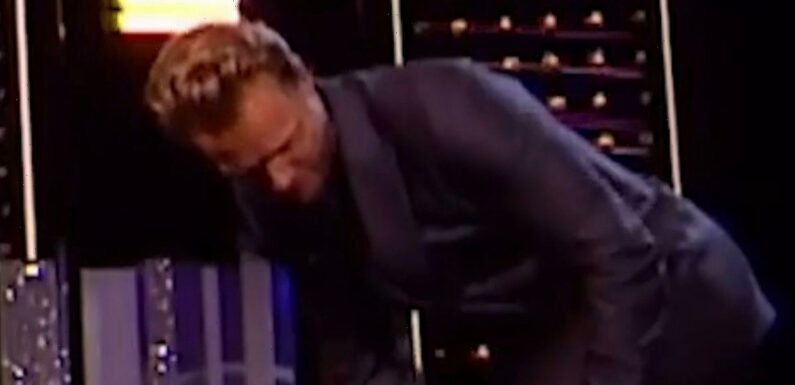 Singer Olly Murs suffered a racy wardrobe malfunction after he revealed a huge "tattoo" of Jason Manford's face on his leg.
During Saturday's episode of Starstruck, a group of contestants were put into Team Christina to perform Christina Aguilera's hit song Fighter.
After the performance, one of the singers told the judges she was such a big fan of Christina she got the singer's image tattooed on her arm.
READ MORE: BBC Breakfast's Sally Nugent makes brutal dig at Olly Murs as he shares relationship woes
Olly decided to join in on the fun as he added: "I actually have a tattoo of my idol on me. Do you want to see it?"
He then lifted his trouser leg to reveal a "tattoo" of Jason Manford's face on his right calf, as he called out: "Just for you sir!"
The show was then edited to show Olly return to hosting after the gag, but he had secretly suffered a wardrobe malfunction which was hidden from viewers.
After the show, the singer posted a behind-the-scene clip on Twitter as he wrote: "Keep watching… the bit they didn't show tonight."
In the video, Olly tried to pull his trouser leg back down over his calf as he begged: "Can someone help me put my leg back down?"
He could be seen straining to fix his trousers, but when it was clear they wouldn't budge, Jason Manford intervened.
Speaking to the show's crew, he asked: "Can we get some help please for Olly's calves?"
A crew member then joined Olly on stage as the singer was forced to lie down on the floor and push himself into a push-up position as they rushed to fix his wardrobe malfunction.
Once he had been helped, Olly then jumped back into his hosting ob as he called out: "Welcome back to Starstruck."
Adam Lambert joked: "It's a good thing we're not live," as they cracked on with the rest of the show.
Starstruck airs on Saturdays at 8.30pm on ITV.
READ NEXT:
Olly Murs' raciest sex confessions ever from penis prank, sex-toy gift and romp tweet
Olly Murs' fiancée leaves him red-faced after revealing his most disgusting habit
Olly Murs talks 'kinky gifts' and discusses bizarre 'penis pumping' game
Source: Read Full Article