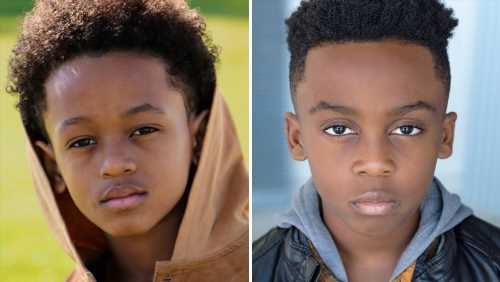 EXCLUSIVE: Percy Daggs IV (The Last Days of Ptolemy Grey) and Anthony B. Jenkins (Florida Man) have been set to join Halle Berry in Lionsgate's thriller Never Let Go (fka Mother Land) from 21 Laps.
Related Story
Warner Bros Lands Hot Package 'Maude v Maude' Starring Halle Berry And Angelina Jolie; Both Will Also Produce
The film currently in production follows a mother (Berry) and her fraternal twin sons (Daggs and Jenkins) who have been tormented by an evil spirit for years and are convinced to never let go of their family's protective bond. But when one of the boys questions if the evil is real, their connection is severed, triggering a terrifying fight for survival.
Alexandre Aja (Crawl) is directing from a script by Kevin Coughlin & Ryan Grassby. The film will be produced by 21 Laps' Shawn Levy, Dan Cohen and Dan Levine, who have delivered such hits as Arrival, Free Guy and Stranger Things, as well as Aja. Exec producers are Berry, Holly Jeter and 21 Laps' Emily Morris. Chelsea Kujawa and Scott O'Brien are overseeing the project for Lionsgate. And deals were negotiated for the studio by Robert Melnik.
Daggs was most recently seen playing the role of Pity in the Apple TV+ limited series The Last Days of Ptolemy Grey led by Samuel L. Jackson. He's also previously featured in the series Solos and Undone, streaming on Prime Video.
Jenkins stars opposite Andra Day, Glenn Close, Mo'Nique, Caleb McLaughlin, Aunjanue Ellis and Demi Singleton in the Lee Daniels-directed horror-thriller The Deliverance, which is expected to debut on Netflix this year. He can currently be seen recurring on Netflix's Florida Man, having previously recurred on NBC's Chicago Med and The CW's Roswell, New Mexico, and guest starred on ABC's reboot of The Wonder Years.
Daggs is represented by LA Talent and Brecheen Feldman Breimer; Jenkins by Moxie Artists nationally, YJB Talent in the Southeast, and Yorn, Levine, Barnes.
Must Read Stories
How A Potential Strike & Industry Pivoting Has Hollywood's TV Biz At A Standstill
Dominion CEO Defends $787M Deal; Late-Night Hosts Gloat But Regret Lack Of Trial
Brian Cox, Kelly Reilly, Brooklynn Prince & Che Tafari Board Paramount+'s 'Little Wing'
Streaming Site Launches: Watch Panels For All 40 Emmy Hopefuls
Read More About:
Source: Read Full Article