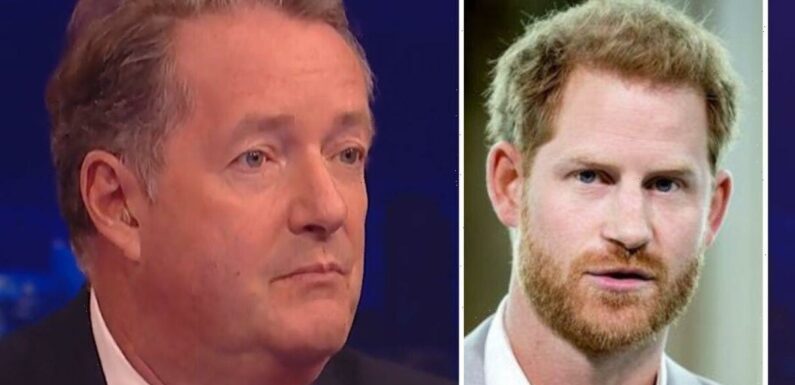 Talk TV: Piers Morgan talks about losing his job on GMB
We use your sign-up to provide content in ways you've consented to and to improve our understanding of you. This may include adverts from us and 3rd parties based on our understanding. You can unsubscribe at any time. More info
Piers Morgan was joined by another round of guests on his show to discuss Prince Harry's latest memoir, Spare, which was released today. He returned to his show after a two-week holiday and used both shows to lay down his opinion of what Harry had revealed. However, viewers of the show had had enough of Piers' comments and took to their social media to express their annoyance.
During one of his many rants during tonight's show, Piers discussed Prince Harry's descriptions of certain women in Spare with journalist Tina Brown.
He began: "Harry, in his own book tears into a female newspaper editor at the time, now she runs this company.
"Says she is a 'loathsome toad, and everyone who knew her was in agreement.
"She was an infected postural on the a** of humanity, plus a bleak excuse for a journalist', I mean, he is in sense by any criticism of his wife or any bad way that people talk about her.
READ MORE: GB News fans 'switch off' after guest defends Harry in fiery clash
"And yet he is prepared to take down this female editor, using that kind of language, take down an innocent matron, call Camilla a 'dangerous villain', tear into poor old Kate [Middleton].
"Talks about her kid crying, for a guy who is married to this supposed feminist, the way he talks about women throughout this book is really appalling."
Tina responded: "It really required an editor. The thing that is interesting about Harry is that he goes on and on, he is always complaining about the palace.
"Harry has found what it is like to not have the palace platform. The palace platform is fantastic at generating invitations of the right time."
"It is a really clodhopping edit, I have to say," the guest went on to add.
At the end of last night's show, after informing his viewers that he had read Harry's memoir in four hours in preparation for the show, he threw it in the bin.
However, fans became frustrated by the Prince Harry coverage, and many took to social media to complain.
One angry viewer event branded tonight's segment "a car crash".
Writing on their Twitter accounts, @paceman76 stated: "Says the show that had Andrew Tate on as a guest twice…"
@rue66 fumed: "Seriously stop, you're just angry because you lost your job. Harry is entitled to write about his experiences royal or not.
"The Royals are humans, not robots and they should behave so. Time they took a page out of his book." (sic)
Susie Kat commented: "I think this is your way of amplifying the situation. The army has to take emotions away from these lads so that emotions don't get in the way. What is so wrong about you Piers." (sic)
@Markandproud1 expressed: "Oh dear….the bullies are getting it back in spades and now suddenly become the oppressed …..car crash tv at its finest."
"Is this all you have left?" Clive White asked as @middleman1969 added: "Piers Morgan has platformed Andrew Tate and Stanley Johnson..his outrage over how women are treated seems a little bit opportunistic at this stage."
@jozak123 said: "Your obsession with the Royals is surely worthy of a restraining order. Look at who you rub shoulders with, Andrew Tate on remand in Romania.
Piers Morgan: Uncensored airs weekdays from 8pm on TalkTV.
Source: Read Full Article