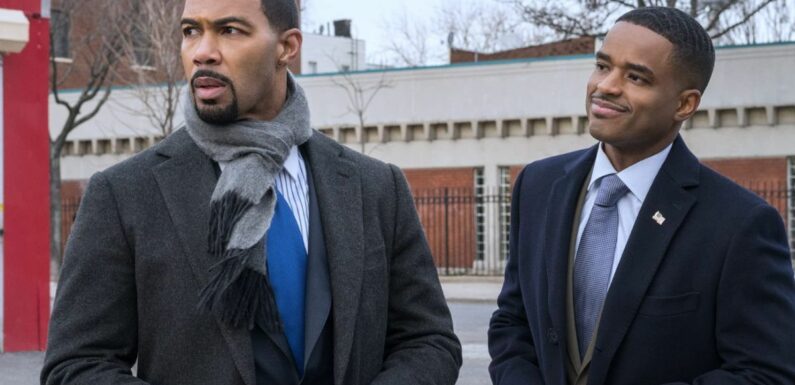 Power Book II Ghost: Starz releases trailer for season 3
We use your sign-up to provide content in ways you've consented to and to improve our understanding of you. This may include adverts from us and 3rd parties based on our understanding. You can unsubscribe at any time. More info
Power Book II is set to return with its highly anticipated third season later this month, as fans will see Tariq (played by Michael Rainey Jr) and the gang hustle in the streets of New York. Star Larenz Tate hinted exclusively to Express.co.uk "anything could happen" when it comes to Omari Harwick returning to the hit drama as Ghost.
Along with season three of Power Book II returning, original Power cast member Tate will also be making a comeback to the Power Universe.
Ahead of the premier later this month the star spoke exclusively with Express.co.uk, talking all things Power Book II.
The actor was asked whether he believes his former co-star Harwick will ever return to the series, following speculation around his character's death in the original show.
Although Tate believes Ghost is "gone" he does believe "anything is possible" when it comes to the series.
The actor explained: "You know, I believe he's gone." but claimed: "This is the power universe? Who knows? I mean, anything could happen.
"He [Ghost] could return in some capacity. I think anything is possible. But my hunch is that, you know, he's, he's gone."
The star admitted he "would be surprised" if Harwick did make an epic return as Ghost revealing "they [producers] don't tell us everything".
Although Tate maintains Ghost is dead, he did hint the lead character "could probably fill some scenes with him [Ghost] elsewhere. But no, I think he's gone".
The last time fans saw James "Ghost" St. Patrick was during the franchise's original show, Power.
Power followed James as he lived his life in a stunning Manhattan penthouse that was bought with the success of his hot and new nightclub called Truth.
But a closer look revealed a man living a double life as he was also one of New York's leading but ruthless drug dealers, which is where he gained his alias of Ghost.
In a shocking turn of events, it did not end well for Ghost as he was later killed by his son Tariq (Michael Rainey Jr) after being sick of his Father being in the game for too long.
However, it wasn't the end of the St. Patrick being a leading name in New York city when it came down to the drugs business.
Tariq was given his own spin-off that followed him navigating his new life, in which his desire to shed his father's legacy came up against the mounting pressure to save his beloved family.
And despite hating his fathers involvement in the industry, Tariq fell into the same patterns as his father, distributing drugs throughout the streets of New York.
Tariq later got entangled in the affairs of the cutthroat Tejada family, adding further complications to his life, as he attempted to balance his drug operations with his education, love life, and family affairs.
The third season of Power Book II: Ghost will return on March 17, with its all-star cast including the likes of Michael Rainey Jr, Mary J Blige (Monet Tejada) and the rest of the Power cast.
Power's original cast member Larenz Tate, will also be returning to reprise the character of Councilman Rashard Tate
Fans can also expect some new faces to join the cast like Caridad Milgram, who will be causing Tariq some serious problems throughout the upcoming season.
Power Book II: Ghost will return to STARZ on March 17.
Source: Read Full Article