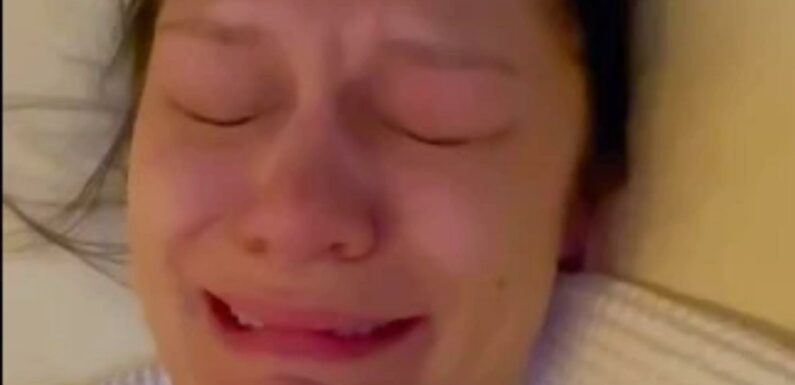 PREGNANT Jessie J has shared a candid video from her first trimester which includes her breaking down in tears and throwing up.
The singer announced that happy news that she is expecting her first child on Friday evening.
Earlier today she posted snippets of her pregnancy on Instagram – which include the highs and lows of becoming a mother.
One clip was of her yawning, followed by another of her being sick into a bag.
Jessie could also be seen crying in bed, which transitioned into a video of her throwing up into a bin.
She captioned the post: "I was warned about that first trimester and it was WOOFY WOOF," followed by a range of different emojis explaining her feelings.
Read more on Jessie J
Jessie J reveals she's pregnant after miscarriage heartache
Jessie J shares grief over Jamal Edwards, says his death 'doesn't feel real'
Jessie J confirms romance with basketball player Chanan Colman with public kiss
Jessie J takes swipe at Brit Awards for not inviting her for over a decade
The star played Coi Leray's tune Player in the background.
Fans rushed to the comments section to share the love.
One said: "I feel you! 😩🤢 exhausting! Ohhhh the memories!!! But still so amazing! Xx."
Another joked: "Yep, isn't it a dream 😂."
Most read in Celebrity
Major 90s pop band reforming for blockbuster reunion and huge tour
Katie Price reveals shock new job and reveals she's training for surprise career
Poldark actor Aidan Turner and wife both pictured without wedding rings
Top British actress signs up to A-list dating app Raya
A third chimed in: "You can do this! Best news of 2023 yet."
Jessie revealed the news on Friday a year after her devastating miscarriage.
The pop star announced the happy news on Instagram in a sweet video showing off her baby bump.
She wrote: "I am so happy and terrified to finally share this…
"Please be gentle with me 🫂 Honestly, ya girl just wants to ugly cry in public in a catsuit eating a chocolate covered pickle with no questions asked 🤸🏻‍♂️."
The clip was sound-tracked by her own song Sunflower and showed her holding a Clear Blue pregnancy test confirming she is to be a mum.
Jesse is private about her love life but went public with basketball player Chanan Colman, 38, last May.
Prior to that, in November 2021, Jessie tragically revealed she'd suffered a miscarriage, a month after splitting from ex Max Pham.

Source: Read Full Article