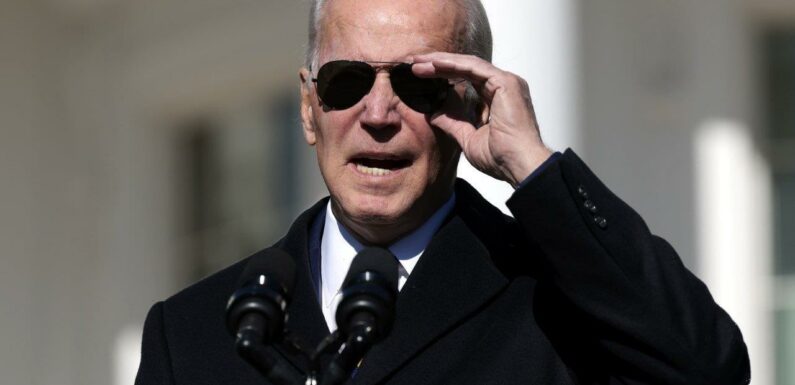 From David Rubenstein's Massachusetts island home, the president and wife Jill Biden call into the Macy's Thanksgiving Day Parade but unfortunately it gets off to a rocky start.
AceShowbiz -President Joe Biden had a rather awkward TV moment on Thanksgiving Day. On Thursday, November 24, POTUS called into the Macy's Thanksgiving Day Parade but unfortunately it got off to a rocky start.
From the Massachusetts island home of private-equity billionaire David Rubenstein, the president and first lady Jill Biden called to greet viewers of the annual parade. However, the call began with 30 seconds of confusion as NBC's Dylan Dryer was unable to hear the pair.
"I'm not one to take a phone call during TV, but I think I should answer this one," Dreyer said. The reporter then said, "Hello, Mr. President?" As no one answered, Dreyer added, "I don't think I can hear you… Can you hear me, Mr. President."
After a lengthy and uncomfortable silence, Biden then was heard saying something to the First Lady. "Hello? Happy Thanksgiving, Mr. President. Are you there?" Dreyer continued asking during the cringeworthy moment.
Finally, Biden started responding as he said, "We're here." Once the connection became clear, the commander in chief went on saying, "I want to say thanks to the firefighters and police officers, first responders. They never take a break."
The First Lady chimed in, "And God bless our troops for sure. We're just going to have dinner with the family, probably take a walk on the beach."
The president continued, "We've been coming up to Nantucket since we first got married, the whole family, and it's become a tradition. And we're going to go stop at the fire department. Want to make sure that we spend some time on the island thanking the first responders here, and then we'll see the Coast Guard, the military."
"And by the way, we're going to be talking to some of our troops later in the day, both here and abroad. I hope everybody remembers. We remember them every single day. God bless our troops for real!" he concluded.
The Bidens visited a Nantucket fire station with their grandson Beau. The pair gave some pumpkin pies for the firefighters and in return, the firefighters gifted the 2-year-old boy, who is the son of Hunter Biden and his wife Melissa Cohen, a miniature fire hat.
You can share this post!
Source: Read Full Article