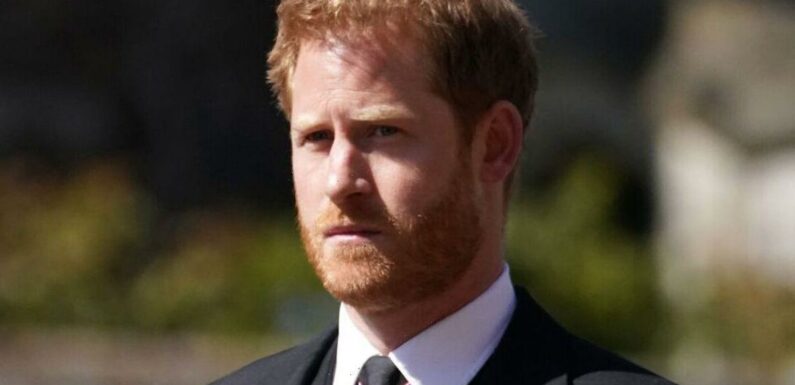 Tom Bower discusses Prince Harry and Meghan Markle
We use your sign-up to provide content in ways you've consented to and to improve our understanding of you. This may include adverts from us and 3rd parties based on our understanding. You can unsubscribe at any time. More info
Expert Darren Stanton has delved into what Prince Harry's body language revealed during his recent candid chat with trauma expert Gabor Maté. The specialist has since made some predictions about the Duke of Sussex, including one which assumes he "will not return to the UK in the foreseeable future" because he displayed "genuine happiness" during the conversation. It comes as the release of Harry's memoir, Spare, continues to spark debate and discussion following significant accusations and revelations the royal made.
Darren analysed Harry as he took part in a live stream session with the trauma specialist last week.
The Duke opened up about the battles he faced whilst growing up in the Royal Family, which comes after his controversial memoir.
Speaking on behalf of Betfair Casino, Darren explained why he believes Prince Harry won't be coming back to England following his 'fresh start' with his wife Meghan Markle.
He also picked up on the noticeable differences in Harry since his highly-publicised move to the US, where he has become more "open" and "honest".
Prince Harry has been making headlines once again this year due to the January release of his tell-all memoir, Spare.
He has also let slip more details during interviews, and apparently, his body language also reveals more about the Duke's future.
"Prince Harry's interview with Dr Gabor Maté was very revealing, and added a whole new level of vulnerability for him," Darren stated.
He continued: "It's clear he very much sees Meghan as a fresh start and his saviour from being a full-time member of the Royal Family, entrenched in protocol, tradition, and orders.
"While speaking about his wife during the interview, his emotions changed from sadness to elation.
"He is obviously incredibly proud of Meghan's achievements, which almost made him well up with tears.
"There were also some dramatic shifts internally within Prince Harry, as his face and lips began to turn red.
"This is a pacifying gesture in psychology, which is used at times of reassurance.
"People tend to do this at certain times when they are feeling vulnerable and in a state of sadness."
Don't miss…
Jeremy Vine blasted for not challenging caller's 'hateful' remarks [LATEST]
The Chase player hits back at Mark Labbett after he brands him 'weak' [VIDEO]
Janet Street-Porter 'whacks' Coleen Nolan during Loose Women row [LATEST]
The expert continued: "I guess the way that things have gone with his family has left Harry with a tinge of sadness.
"However, he is clearly very happy with Meghan and the family unit they have in America."
On the likelihood of the Duke making a comeback to the UK, Darren revealed: "From his body language and general demeanour since moving to America, I do not think we will see Harry returning to the UK on a full-time basis or in the foreseeable future.
"He has obviously found his feet in America, where he feels genuinely happy and content to express himself.
"His confidence levels have definitely grown since breaking away from the Royal Family.
"He also seems to be a very different person while attending events in America.
"He is a lot more light-hearted and open, whereas he tended to be guarded and displayed distrust in the UK."
Darren went on to describe Spare as a way for Harry to "offload many of his fears, anxieties, and demons."
He concluded: "Overall, I believe we saw a much more down-to-earth, grounded, and above all happier Prince Harry.
"We have to understand that while Meghan may be used to living in California, Harry was brought up in England.
"This is all very much new to him and although it has taken time for him to settle, he appears to be a very different person now living in California."
Source: Read Full Article