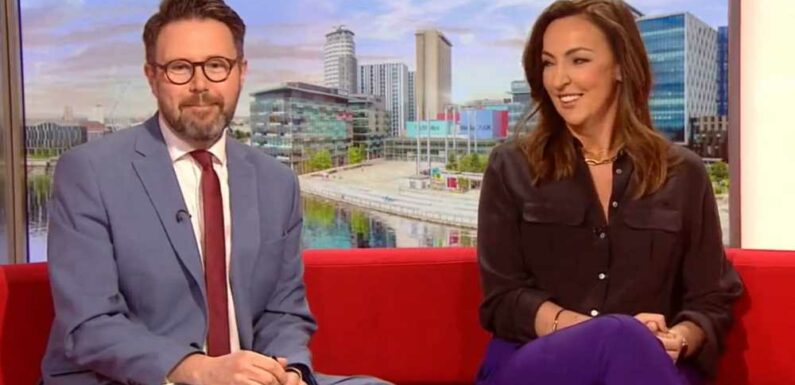 SALLY Nugent stunned BBC Breakfast viewers by revealing her secret Hollywood past in an Oscar-winning movie.
The 51-year-old journalist was back on the BBC Breakfast sofa alongside Jon Kay today.
The pair discussed a range of topics, before Sally surprised viewers at home with the revelation she was in an Oscar-winning movie.
Jon, 53, said: "You've got your own little secret movie past, haven't you?"
As music from the film started playing in the background, she replied: "It isn't very secret but I'm in an Oscar-winning film as an extra, it was when I was a kid, in Chariots of Fire.
"When I was little, our primary school and everybody where I lived locally went to be part of the scene in Chariots of Fire when it was the Paris Olympics.
Read More on BBC Breakfast
BBC Breakfast's Naga Munchetty wows fans with natural beauty in new selfie
BBC Breakfast star 'frustrated' as technical blunder derails interview
"But it was at the Oval Sports Centre, sorry to shatter that illusion for everyone.
"I had a little costume and everything, I think I've still got the hat somewhere."
Jon asked if they would be able to see her in action but she said it was "very unlikely" as it was a crowd scene with lots of people in it.
But Jon then encouraged BBC Breakfast viewers to "freeze frame" the scene to try and see Sally.
Most read in News TV
MasterChef contestant left in tears after serving host John Torode hairy pork
C4 creates Love Island rival for throuples inspired by David and Una
Strictly legend given a 'take it or leave it' deal to stay on the show
EastEnders announces special episode in latest BBC schedule shake-up
Meanwhile on Tuesday's show, the pair found themselves having to deal with a technical problem during an interview.
At one point, they tried to chat to the BBC's former Ireland correspondent Denis Murray via video link about US President Joe Biden's impending trip.
Denis had covered former President Bill Clinton's historic visit to Northern Ireland in 1995, but as he tried to discuss the matter, his sound faltered.
As Jon pointed out they were struggling to hear him, Denis looked frustrated as he tried to figure out what the problem was.
Jon and Sally tried a little longer to see if his sound would return, but when it didn't, Sally said: "I think we lost the line to Denis."
She then told viewers: "He is now throwing his hands up in the air out of frustration because his technology is perhaps not working as well as it could be."
BBC Breakfast airs daily from 6am on BBC One.
Source: Read Full Article