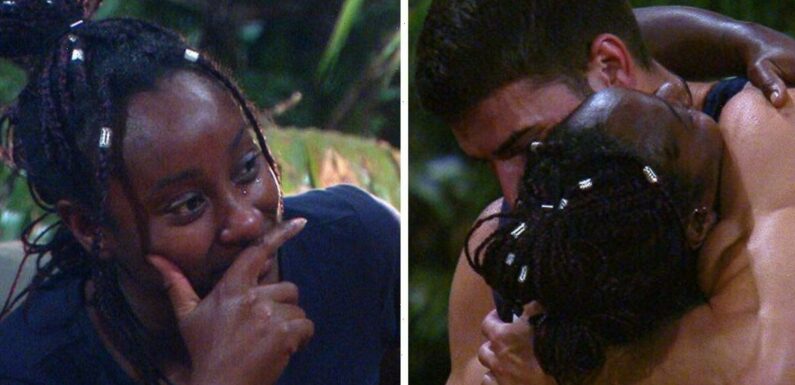 I'm A Celeb: Scarlette Douglas tearful as she leaves camp
We use your sign-up to provide content in ways you've consented to and to improve our understanding of you. This may include adverts from us and 3rd parties based on our understanding. You can unsubscribe at any time. More info
The 35-year-old joined comedian Babatúndé Aléshé in the bottom two on Sunday night and subsequently became the second campmate to be booted from the jungle. Scarlette followed Loose Women star Charlene White, the first to go at the weekend. Many I'm A Celebrity fans have taken to social media to speak of their disappointment and embarrassment the two were the first to go.
Speaking after her exit, Scarlette addressed the "race row" surrounding this year's series.
She told the Daily Mirror: "All I can do in the jungle is just be me. And I think when Charlene went, obviously, we were all so shocked because she was a big personality of the jungle.
"As the public vote to save their favourite campmates, Scarlette admitted she felt like an underdog against the other stars.
"I can't remember who it was, I think it was Boy George, he said people aren't voting for who they want to leave, they're voting for their favourite," she remarked.
"So I've always come in here as an underdog. I've got the least profile of anybody else, you know, not everybody knows who I am. Hopefully, they do now!
"So I was never going to get the most amount of votes. You know, even if you're just looking at something like Instagram, I always have the least amount of followers.
"If I go by something like that. I'm not going to get all the votes. So for me, all I could have done in the jungle was do my best and hope people liked me and hope that people voted for me.
"But people aren't voting for me to leave. They're voting for who their favourites are, and if I'm not their favourite there's nothing I can do about that.
"I just have to be true to me. Be authentic and just enjoy the experience and when my time comes, my time comes wherever it is. You know I'm the second out, it would have been great a lot further but that didn't happen."
This isn't the first time the ITV staple has faced claims of a "race row".
When rapper Naughty Boy, athlete Kadeena Cox and presenter Snoochie Shy were all sent home early in 2021, the show faced backlash when it was left with an all-white lineup.
Many fans of Scarlette took to social media to show their support for the A Place In The Sun star and their disappointment seeing her leave.
One tweeted: "Just surprised here considering her sweet personality, which the show actually should have valued a bit longer."Another viewer said: "I really like Scarlette, she had great energy and brought fun. Can't understand why she left but Chris Moyles and Hancock are still there."
Addressing why controversial campmates like Matt Hancock were still in the jungle, Scarlette revealed she took the MP to one side for a chat to avoid a "toxic" atmosphere.
She explained: "I don't want to be off with anybody, especially when you are all so close and tight in the camp – you have to all get on. Why create a toxic environment if you don't have to?"
When asked if she liked him, Scarlette said: "I like his get up and go. Do I like Matt Hancock specifically? I don't know if I had enough time to get to know him"
Scarlette revealed while it was disappointing to be the second voted out, she can't look it at as a negative: "I have to take this as a positive.
"I've had an amazing experience. I've met some incredible people and take from that what you will."
Scarlette, who will be back filming a new series of Channel 4 property show Worst House On The Street with brother Stuart in the coming weeks, hopes the jungle could be a springboard to new opportunities despite going out relatively early.
Sounding positive, she said: "I think this year, I've kind of achieved everything I wanted to achieve even before I found out about this.
"But if it means that people can see the entertaining side of me, outside of the always doing property, then I've won. I'm so happy people now see that I sing and dance and I'm a big kid at heart.
I'm a Celebrity…Get Me Out Of Here! continues tonight at 9:15pm on ITV One.
Source: Read Full Article