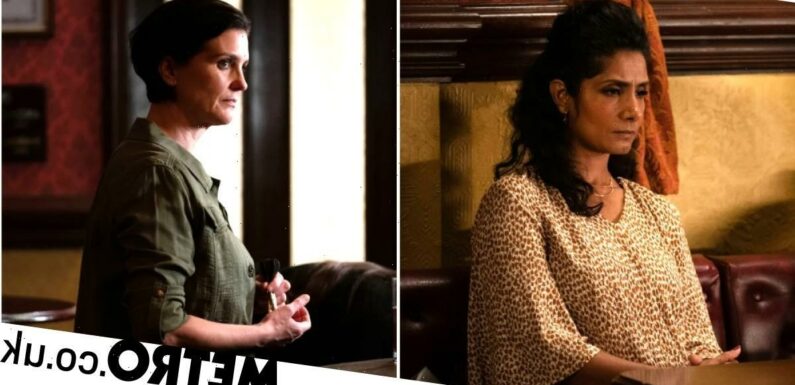 Suki Panesar (Balvinder Sopal) and Eve Unwin (Heather Peace) have quite the history, but could they be set to get things back on track in upcoming EastEnders scenes?
Eve was left heartbroken when Suki knocked her back in recent scenes, claiming that she meant nothing to her.
This came as quite a blow, following their tumultuous relationship over the past couple of years.
Things came to an abrupt end when Suki's husband Nish Panesar (Navin Chowdhry) was released from prison and came waltzing back into their lives after 20 years.
However, their marriage appeared loveless, with Eve noting recently how he 'sucked the fire out' of her, before Suki turned her down.
Devastated, Eve took her revenge by teaming up with evil Nish, who's plan was to trick Suki into unknowingly signing over half of her businesses to son Vinny (Shiv Jalota).
Feeling guilty over her betrayal, she recommended Suki as a buyer for the Queen Vic, which is up for sale following the disappearance of Mick Carter (Danny Dyer), in the hopes of winning her round once more.
However, this backfired, as Suki announced that she would be renewing her vows with Nish, leaving Eve heart broken once more.
In upcoming scenes, Eve will find Suki in distress following an incident with Karen Taylor (Lorraine Stanley).
After observing a conversation between Suki and Nish about the altercation from afar, Eve heads into the Minute Mart to check that Suki is okay.
With Suki feeling vulnerable, will she give into desires and have a passionate reunion with Eve?
Source: Read Full Article